Staff Spotlight: Anton Maurer
We sat down with School of Fine Arts Lecturer Anton Maurer, and chatted about Whitecliffe's Photo Media programme.
To watch the interview click here.
Please introduce yourself and tell us about what you do.
Kia ora, my name is Anton Maurer and I teach in the Photo Media department here at Whitecliffe.
What made you want to teach at Whitecliffe?
I chose to teach at Whitecliffe because it facilitates my ability to continue practicing as an artist, whilst also earning a living.
Tell us about the programme you teach.
I teach in the School of Fine Arts, from certificate to honours. I teach a lot of the technical photography papers. That is learning how to use a camera, lights and the computers.
What programmes are you currently studying?
Last year I finished my Master of Fine Arts here at Whitecliffe. I just did one year to finish that off.
What valuable skills did you gain?
Finishing my masters at Whitecliffe was great. The low-residency aspect of the programme really worked for me and then being able to come together and put your work out with a bunch of other artists. Having discussions and workshops about professional practice and all of these kinds of things was fantastic.
What inspires your practice?
My practice was really inspired by the relationship between Capitalism and Colonisation and how that impacted the landscape in Aotearoa. That's what I came into Whitecliffe doing and that's sort of expanded now, into how we care for people in Aotearoa and how that care is distributed. So I'm looking at the relationship between different ministries and how they distribute care.
What advice would you give to an aspiring photographer or artist?
My advice to an aspiring artist would be to work hard at your practice and to really be mindful about what you're consuming, in terms of visual material and what you're reading. These kinds of things, and to really try and expand that alongside your making.

What makes Whitecliffe unique?
What's unique about Whitecliffe is the size of the campus and the size of the community. It's a bit smaller and I experience this, both as a teacher, and as a student; that faculty have more time for each individual. That really plays out over the course of a degree, programme, or over three years. Having that access to faculty, that's the major difference I found at Whitecliffe.
What does create meaningful change mean to you?
Creating meaningful change for me is quite an exciting prospect. With the direction that my practice has moved in now I am actively engaging with the members of parliament with the intention of agitating for legislative change. That really is a big priority for me; to explore what the potentials of art are in terms of contributing to societal change.

In terms of teaching and for students, creating meaningful change is more about facilitating a student's journey. That's one thing that I do really like, we provide constraints and parameters for students and the briefs. Then, the research is their own and so they're really exploring and delving into what makes them unique as a person or how they perceive the world. It's really, really cool watching that unfold.
What is unique about Whitecliffe's Photo Media department?
If you choose to become a Photo Media student, in-built into the programme is technical learning in all aspects of photography. So, film, digital, lighting and moving image. Whereas, if you were to study at another provider, at least the way it was when I did, you had to pursue that for yourself in your own time.
What are your future goals for your career?

In terms of my career, I'd like to continue exhibiting, putting on shows, publishing books- I've just released my first book. Also continue to progress in terms of my teaching skill set, my Te Ao Māori understanding is a big priority for me. Then, just continuing to develop and grow as an artist and person both here at Whitecliffe and out in the world.
Anton teaches within the School of Fine Arts. To find out more about our Fine Arts, click here.
Talk to our team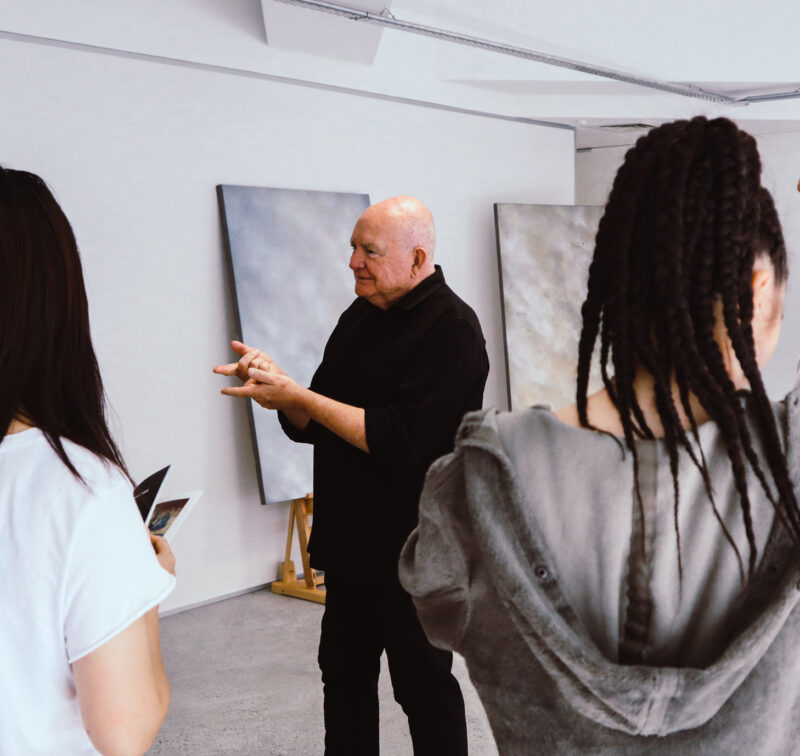 If you would like to ask us a question or request more information, please detail your enquiry using the form below. If you would like you can contact us directly on 0800 800 300, email us or use the contact us form.