How to apply
Applications to enrol for study at Whitecliffe are submitted online on our website.
Click here to be redirected to our online application form.
A physical application form can also be requested by contacting our admissions team: admissions@whitecliffe.ac.nz or phone 0800 800 300.

Preparing to Study at Whitecliffe

Here are a few tips you can follow to prepare for your application to study at Whitecliffe.
Admission to Whitecliffe Programmes
There are certain entry requirements you need to achieve before gaining entry to study at Whitecliffe. View the entry criteria for each programme here to make sure you're on track for achieving the required criteria.


If you're currently studying at high school
Check in with your school's career advisor to ensure you're choosing suitable subjects in school to meet the prerequisites for your chosen qualification/pathway.


Visit the Campus
Whitecliffe holds Open Days throughout the year at all our campuses. You'll get a chance to visit the campus, meet with our staff and students, participate in interactive sessions/demonstrations, and get a taste of life as a Whitecliffe student. We also hold regular workshop sessions and campus tours throughout the year.

To view our current and upcoming events, click here.


Get Advice and Guidance
Get in touch with our Admissions team for advice and support for enrolment at Whitecliffe. Our team can help you with any information or questions you may have about Whitecliffe, our programmes, application process, and paying for fees.

You can also organise a campus tour to visit the campus and meet our Admissions team in person. Contact our admissions team to get in touch today: admissions@whitecliffe.ac.nz or phone 0800 800 300


Apply for a Student Loan and/or Allowance
Studylink recommends applying for your student loan and/or allowance before December to ensure you're ready to study the following here. Click here to find out more information.


Submit your Application
Applications to enrol at Whitecliffe are submitted online on our website here.


How to Apply
Apply Early
Places are limited, submit your application well before the semester begins


Complete the online Application Form
- Apply online
- Indicate the programme of choice
- We will acknowledge your application and contact you for further documentation if required


Required Documentation
The Admissions team will be in contact to review what documents are required in the application process:
- Certified Copy of Passport or Birth Certificate + Passport photo: required for all programmes
- Letter of Intent: Only required for BFA, BSFD, MFA, and Creative Arts Therapies programmes. A 250-word letter outlining reasons for wanting to study the programme of choice
- Portfolio Review + Interview: Only required for BFA, BSFD, MFA, and Creative Arts Therapies programmes. Your portfolio should include 12-24 examples of original work showing the breadth of ability. The portfolio can be specific to one genre or multiple, depending on the student's body of work. Digital copies can also be submitted. The Admissions team will organise a time for the Portfolio Review and Interview.


Application Assessment
- The Admission team assess your application to ensure you meet the entry requirements
- Applicants over the age of 20 may have some academic requirements waived
- We review your academic history and relevant experience to ensure your success in the programme
- The team will contact you to let you know if you've been successful

Possible Outcomes:
- Unconditional Offer: You are offered a place to study at Whitecliffe
- Conditional Offer: We may need to review your NCEA University Entrance results before confirming your place in the programme
- Discretionary Entrance: Available to applicants who have attained a high level of achievement in Year 12 and want to embark on higher level study
- Declined: If you don't meet the entry requirements, or all of the places are taken. There may be alternative options available


Accept your Offer
- To confirm your place, you must sign and return your Enrolment Contact to the Whitecliffe Admissions Team
- Congratulations, you've been accepted to study at Whitecliffe!


Student Fees
- Paying your student fees can be organised through Studylink, or Electronic Funds Transfer (EFT)

"Whitecliffe offered an environment that would nurture my practice with regular meetings and critiques of my work and support from lecturers in all of my endeavours." – Ella Ranfft, Whitecliffe Fine Arts Graduate
Talk to our team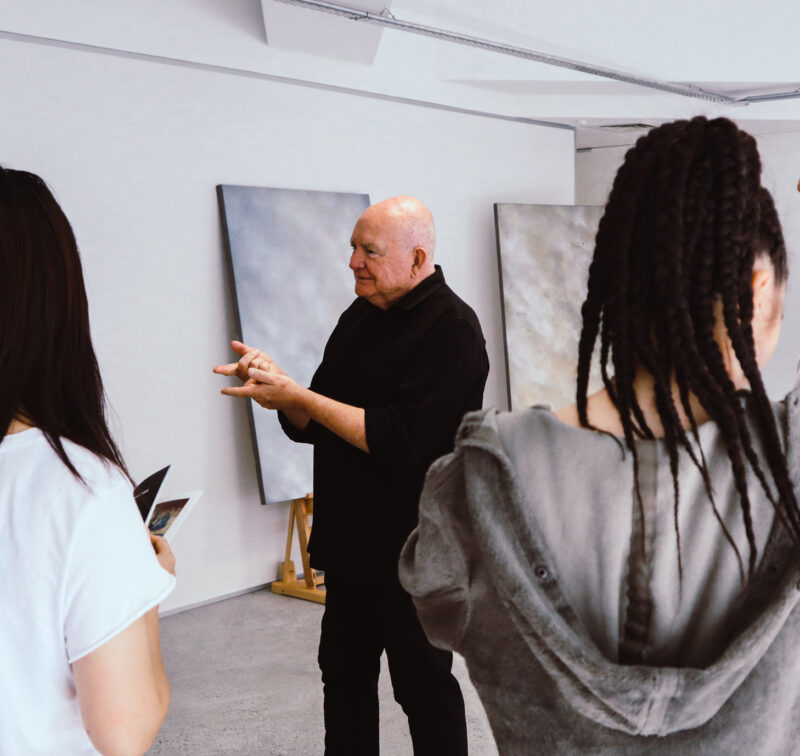 If you would like to ask us a question or request more information, please detail your enquiry using the form below. If you would like you can contact us directly on 0800 800 300, email us or use the contact us form.