Bachelor of Fine Arts - Photo Media
Photography and the Media Arts, now more than ever, are essential vehicles for personal expression, collaborative communication, and the delivery of powerful documentary and brand stories.
The Photo Media specialisation places emphasis on contemporary Fine Art Photographic and Moving Image Practice, historical contextual learning, current theoretical concerns, and best practice industry expectations. Students will consider the formal and technical aspects of photography and video as well as the theory and debate surrounding lens-based image-making today.
Duration
3 years full-time in Auckland
Qualification
Bachelor's Degree (Level 7) 360 credits
Costs
2021 Domestic $9,051 + $300 Student Services Levy 2021 International $27,000 + $300 Student Services Levy Fees free applies All 2021 fees are subject to change and regulatory approval
View full fees
Bachelor of Fine Arts - Photo Media Course Outline
The programme is underpinned by the delivery of essential skills, techniques, and methodologies to foster students' creative, practical, and contextual development. Students develop this creative potential while gaining an understanding of professional practice applicable to the photographic and wider communications and media industries.
Photo Media students are supported in working on projects that are realised in the form of exhibitions, screenings, and publications.
Graduates of the Photo Media pathway will be well-positioned to embark on dynamic and creative careers. Alumni of the pathway have established their own commercial and fine art practices, assisted professional photographers and worked in galleries and photo labs and for photographic agencies and producers. For those considering further study, the Whitecliffe Bachelor of Fine Arts programme is nationally and internationally recognised as a pathway into postgraduate programmes in New Zealand and internationally.
Why choose Photo Media at Whitecliffe?
Photography and moving image increasingly play a crucial part and ever-changing role in contemporary art practice. Via lens-based arts we engage with fact, fiction, and fantasy - and the place where they intersect. Constant advances in wireless technologies, cameras, data storage, and social networking deliver images from anyone to anywhere, in real-time. Still and moving images are central to the ongoing development of contemporary art practices and exhibitions. Images can seduce the consumer and represent our inner selves. Video is now widely recognised as the literacy of the 21st century and images are embedded into our very culture while retaining their power to harness memory and their storytelling potential.
The Photo Media pathway at Whitecliffe charts this exciting new territory in the related areas of Photography, Fine Art, and New Media.
The programme engages with this expanding definition of lens-based media, with an emphasis on Fine Art Photography, Sound and Moving Image, and the Photobook. Students work in their studio spaces to develop a unique photographic practice, supported by electives and workshops that deliver rigorous technical instruction. Entrepreneurship studies and internships ensure students have a clear sense of commercial and professional expectations upon graduating. Contextual studies allow students to position their own ideas within a framework of historical and contemporary art and lens-based theory.
A committed, enthusiastic team delivers the Photo Media programme. The department draws on experienced lecturers, including established and award-winning practitioners from visual arts, commercial, editorial, and theoretical backgrounds. There is a strong research culture within the department, with lecturers engaged in their own commercial and fine art practices as well as in academic research.
Whitecliffe faculty have active and productive relationships with both the commercial and fine arts arenas: practicing photographers, artists, and industry specialists regularly take part in artist talks, tutorials, critiques, and workshops.
Many alumni are working full-time in their own photographic practices, or in creative industry-related fields. Graduates excel in national art awards; exhibit in local and international galleries and have their work published.
Each year a number of top graduates choose to expand their investigations into further academic research at a postgraduate level.
Bachelor of Fine Arts: Core Courses + Supplementary Electives
The following Core Courses and Supplementary Electives are taught across all four of the Bachelor of Fine Arts pathways, along with specialist courses that are specific to Photo Media.
Bachelor of Fine Arts Year One
Year One for the Bachelor of Fine Arts students includes a combination of both general arts and design with specialist pathway courses. The programme covers practical and theoretical skills and knowledge where students develop core skills in design, drawing, materials and processes, together with critical and contextual studies.
The study includes supervised studio practice, lectures, tutorials, and self-directed learning. Visual Theory introduces the vocabulary of Art History and Contemporary Theory in support of practical courses and Studio Practice.
The Semester One programme is specifically intended to best prepare students for one of the BFA specialist pathways (Fine Arts, Photo Media, Graphic Design, and Fashion Design). Students are guided through structured projects in the first semester and examine the process of drawing, art-making, and design within the compulsory courses: 5101 Drawing, 5102 Design, and 5103 Materials + Processes, before starting their specialist pathway in the second semester.
Students also participate in three, intensive week-long workshops that enable them to collaborate in teams and/or work independently to produce collective creative outcomes.
Critical and Contextual Studies
A fully integrated programme of Critical and Contextual Studies supports all studio specialisms. 5111a & 5111b Visual Theory Part 1 & Part 2 initiates students into the language of critical discourse and critique. Students learn to analyse, critique, discuss, write, and conduct research related to the practice of art and design. The Visual Theory courses also assist students in positioning their art and design practice within a broader cultural and historical context.

Year One Supplementary Electives
Additional to the specialist courses, students have an opportunity to select from a range of elective courses. Elective courses enable the Year One student to test out other specialist areas, before firming up their decision to specialise in a pathway. Elective courses may include the following:

5202: Community Engagement
5203: Painting
5202: Screen Printing
5402: Graphic Print Processes
5404: Publication Design
5502: Reading the Photographic Image
5503: Video
5504: Digital Imaging

Critical and Contextual Studies in Years Two and Three
The integrated programme of Critical and Contextual Studies continues in Years Two and Three. In Year Two students undertake a one-semester course in Modern and Contemporary Art and Design Survey, that addresses contemporary theory and debates around the subject specialism of their choice. Year Three students extend this learning in the Contemporary Issues in Art and Design course as well as Entrepreneurship II that includes the opportunity for applying knowledge in a work placement. During these internships, students gain valuable insight into working conditions and fostering significant networks for the future.

In addition, students select from a range of theory elective courses offered within a suite of Year Two and Year Three courses. The courses include a variety of topics that strategically deepen students' contextual, theoretical, and practice-based inquiries. Students select from the following:
6120: Sustainability Now
6121: Contemporary Art: Asia and the Pacific Rim
6122: Socially Engaged Practice
6123: Scripting the Body: Curating Performance
6124: Identity and the Construction of the Postmodern (Self)
6125: Painting and the Expanded Field
6128: Making Art in a Globalised World
6129: Public Project
6130: Revolution and War
6131: Popular Culture: Warhol's Stepchildren
6132: The Object
6133: What is Cinema?
6134: Spectacle and Seduction
6135: Te Ao Māori
Photo Media Year One
Students wishing to specialise in Photo Media will be required to complete 5500 Studio Practice: Photo Media in the second semester. This course is considered fundamental to the lens-based practice and will include a balance of contemporary and traditional skills, knowledge, and research practice.
The course content will include specialist photo-filmic topics such as Darkroom Processes, New Media, Contextual Studies in the territory of lens-based practice, and longer-term Studio Projects designed to support and develop the individual students' area of interest in the context of contemporary photo-filmic practice.
Photo Media Year Two
Year Two focuses on the further development of Individual Practical Research, Experimentation, and Art-Making undertaken in the studio with an emphasis on student-directed outcomes. A series of project briefs support students to evaluate complex issues and discuss critical frameworks relevant to contemporary art practice.
Students have access seven days a week to modern adaptable studio spaces and specialist digital labs within which to develop and display their work. They are supported by a range of photographic, lighting, and video equipment and the input of a highly-skilled technician. At the end of each semester, students stage formal assessment exhibitions within these spaces which provide opportunities to showcase work, resolve ideas, and consider new directions.
Entrepreneurship I provides an opportunity for Year Two students to apply their creative, practical, and theoretical knowledge with an introduction to small business start-ups, marketing, and public relations. This allows for more integrated and substantiated studio research projects and prepares students for their careers beyond completing their degree.
Photo Media Year Three
Students in their final year will engage with two important platforms for the creation and dissemination of their work: Publication and Exhibition. Semester One addresses the form of the Photobook. During this extended project, students generate a significant body of work that provides the material for their developing skills in editing, sequence, and series. Students engage with ideas around design, production, distribution, and the book as object. At the culmination of the project, the work is assessed and displayed at an open event.
In the second semester, students are supported in generative and experimental methodologies, across a range of Digital and Analogue Media. The studio-based project sees student work refined and resolved through a series of Formal Critiques and supported by the development of an Artist Statement. The outcomes are presented and assessed in an end-of-year exhibition. In addition to these major projects, students receive ongoing technical tutorials, workshops, and specialist support in relevant areas including the use of medium and large format analogue cameras and advanced approaches to digital post-production and lighting. Students also receive ongoing advanced support for moving image and sound production.
Year Three students accumulate a Contextual Portfolio containing Contextual and Visual Supporting Documentation of their studio work as it has developed throughout the year.
Photo Media graduates from Whitecliffe are strongly positioned within the exciting new territory opening up in expanded areas of Photography, Moving Image, and New Media.
The department supports and emphasises these evolving definitions of lens-based media, with a focus on Photography, Moving Image, and Sound. The ability to think into the future of Visual Imaging, both technically and conceptually, positions our graduates at the forefront of art and industry.
Photo Media study at Whitecliffe develops a deep understanding of the traditions and contemporary expressions of Photography and Video Art. Students work in their studio spaces to develop a lens-based practice as a response to their encounters with the world.
The development of practice is supported by special topics and workshops that deliver rigorous technical instruction. Contextual studies allow the student to position their ideas within a framework of historical and contemporary art theory. Entrepreneurship studies ensure students have an understanding of the contemporary arena in which they wish to operate. Visiting artists and practitioners talk frankly to students about the 'real world' working conditions. The Whitecliffe internship programme exposes them to industry standards and expectations and helps set up a network of connections for their future.
Life After BFA Photo Media
Photo Media graduates are positioned to maximise opportunities as practicing lens-based artists in a visual world. Many graduates work as Freelance Photographers in their own businesses, collaborate in creative teams, or have found employment at Printing Labs, Photographic Studios, and as Assistants to well-respected practicing photographers. Alumni have also gone on to work as Producers, Post-Production Artists, Curators, Gallery Assistants, and Magazine Editors. Each year several graduates continue into further academic research at postgraduate level.
Key Information for Students
Faculty
Matt Ellwood
Head of School - Fine Arts
Matt Ellwood completed his undergraduate studies at Auckland University's Elam School of Fine Arts and has a PGDip in Teaching from Auckland College of Education.
Continue reading
Henry Symonds
Senior Lecturer
Henry Symonds completed his undergraduate studies at the Michaelis School of Fine Art, University of Cape Town.
Continue reading
Caryline Boreham
Senior Lecturer
Bio coming soon
Yoon Tae Kim
Photography Technician
Bio coming soon.
Continue reading
Leon Mitchell
Programme Delivery Coordinator - Fine Arts
Leon graduated from Whitecliffe College in 2006 with a BFA majoring in Photography.
Continue reading
Giles Peterson
Lecturer
Giles lectures in contextual studies in New Zealand / Pacific art and design history; Contemporary art and design history, Fashion theory and more.
Continue reading
David Cowlard
Programme Leader - Photo Media
David is a documentary and editorial photographer, digital producer, writer and field recordist.
Continue reading
Where could this programme take you?
Photo Media graduates from Whitecliffe are strongly positioned within the exciting new territory opening up in expanded areas of photography and new media. The department supports and emphasises these evolving definitions of lens-based media, with a focus on photography, moving image and sound. The ability to think into the future of visual imaging, both technically and conceptually, positions our graduates at the forefront of art and industry.
Jobs related to this programme
Photographer
Producer
Videographer
Cinematographer
Studio Manager
Photographer's Assistant
Art Buyer
Curator
Gallery Assistant
Photo Lab Professional
Find out more about career opportunities
Talk to our team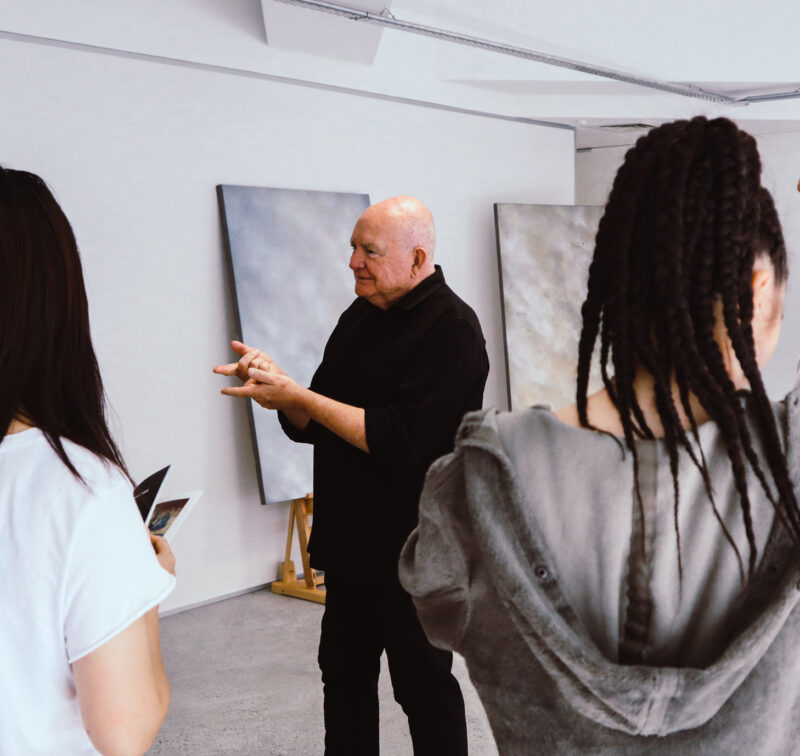 If you would like to ask us a question or request more information, please detail your enquiry using the form below. If you would like you can contact us directly on 0800 800 300, email us or use the contact us form.