Whitecliffe to Launch Three New Degrees in 2022
Whitecliffe to Launch Three New Degrees in 2022

As one of New Zealand's leading private tertiary education providers, we are extremely proud to announce that we are launching three new level 7 qualifications.
These degrees have been developed in response to a year of in-depth consultation across industry, alumni, and students.

CEO Mark Worsop says "the three new degrees that Whitecliffe is launching are really exciting. For over 20 years, the Whitecliffe team has been developing and refining Fine Arts, Photo Media, Graphic Design, and Fashion and Sustainability as part of our Bachelor of Fine Arts. This has included building strong industry networks, enjoying extraordinary graduate success, and building internal capabilities in teaching and research. Ultimately, the strength of each of these independent disciplines has led to the development of three Schools and the three new Bachelor programmes. We are not only bringing industry-relevant degrees to the market, but they are also leading-edge and future-focused degrees that are going to provide our graduates the opportunity to create meaningful change."
Bachelor of Design + Digital Media* (Level 7, 360 credits)
The School of Design Innovation teaches skills in Graphic Design, User Experience, Web, and Responsive Design, Data Visualisation, Human-centered Design, Design Thinking, Entrepreneurship, and Independent Research and will be suitable for a broad range of user experiences in a myriad of design-related sectors with an intent to increase employability.
The degree is a platform for human-centered creativity, impacting social, cultural, economic, and environmental outcomes, using everchanging, emerging, and future digital tools and technologies. Design practices, skills, and knowledge will be used to explore, share, and shape the evolving world of design technology.
The programme will promote experimental and innovative approaches to emerging ideas and design technologies and encourage students to develop their own independent practices and positions to fulfil the needs of the industry.
Graduates will create innovative solutions, will build on their existing knowledge, and develop their design theory and research capabilities.
Bachelor of Sustainable Fashion Design* (Level 7, 360 credits)
The School of Fashion and Sustainability provides an environment that values, fosters and encourages a collaborative learning and educational experience that nurtures creative minds to become responsible individuals, forming ideas and approaches to their sustainable and ethical fashion practice and research.
This new degree acknowledges the urgent need to address some of the negative environmental and social impacts of the fashion industry. It offers rich learning opportunities that inspire critical and creative thinkers as future change-makers, enabling them to address the need for rapid, positive, restorative, and regenerative design solutions.
The programme is creative practitioner, community, and industry-focused, designed to meet the professional needs of the wider sustainable fashion and design industry. Throughout the degree, students focus on areas of personal interest to develop work independently on conceptually based sustainable fashion collections that are informed by relevant research, design, and sustainable fashion theory, thinking, and practices.
Bachelor of Fine Arts (Level 7, 360 credits)
The suite of Fine Arts courses all fit together to produce graduates who are ready to be professional exhibiting artists. We facilitate the academic research, technical methodologies, systems of reflection and critique, plus the real-life experience necessary to succeed in the arts community.
The Whitecliffe BFA has evolved significantly over the past two decades, with content and delivery modes shifting and changing with developing technologies and the changing needs of students, creative sector demands, and future employability.
In response to these shifts, Whitecliffe has remodelled the Bachelor of Fine Arts qualification to specifically align with the subjects of Fine Arts and Photo Media. The changes to the programme strike a balance between traditional art-making methodologies, contexts, and histories while embracing new media, technologies, and contemporary relevance.
The Whitecliffe BFA continues to produce high-quality graduates that are creative, critical, and connected thinkers. By providing life-transforming educational experiences through a combination of practice and critical study, we educate students to shape culture and become leaders in their fields.
We encourage our students to turn their talents into a lifelong career and truly explore what they're capable of.
Studying at Whitecliffe will help you become a stand-out thinker, innovator and collaborator.
Enrolments for the February 2022 intake is open now, find more information here
Cultivate your talents, build new skills and Create Meaningful Change.
*Subject to NZQA approval
Talk to our team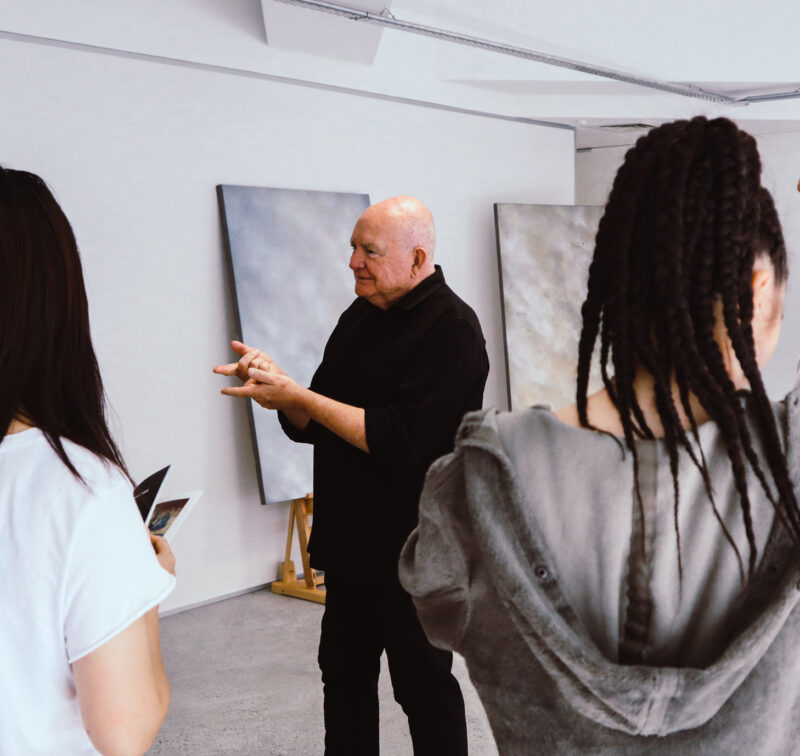 If you would like to ask us a question or request more information, please detail your enquiry using the form below. If you would like you can contact us directly on 0800 800 300, email us or use the contact us form.