WHENUA/WHENUA
A new group show celebrating wāhine Māori artists is now on at Auckland's Tim Melville Gallery - and three of the seven wāhine showcasing their work are Whitecliffe fine arts graduates.
Artists Hiria Anderson-Mita, Maraea Timutimu and Margaret Aull are all part of Whenua/Whenua, an exhibition which explores the layers of meaning encompassed by the concept of whenua. Running until March 18, the show has kicked off the 2023 exhibition year at the gallery, and was officially opened by Kahutoi Te Kanawa (Pou Ārahi Curator Māori at Auckland War Memorial Museum Tamaki Paenga Hira) on February 15.
"I always start the year with a big Māori group show as a sign of intention," says gallerist Tim Melville. "This time I decided to feature the work of women only and name the show Whenua/Whenua. I like the idea of its two meanings - that of the earth, the land, but also the placenta and women being the source of life."
Whenua/Whenua includes large-scale colour photographs of stones and rocks collected from the waterways of Maraea's maternal and paternal kāinga, very personal works created by Margaret during the 2020 lockdowns, and a selection of Hiria's paintings depicting Mookau Kohunui, her late father's marae. Also on show is a circular painting jointly created by Hiria and Margaret.
"Hiria and Margy are great friends and they created this piece together during lockdown," explains Tim. "The abstract background and round form came from Margy and then she dropped it on Hiria's doorstep and she painted the young boy (rangatahi) greeting his ancestors (tupuna) in the form of a carved waka prow (tau ihu). The Covid virus is floating all around them."
Hiria has been represented by Tim Melville for many years now, since he discovered her work at her Whitecliffe Graduate Show in 2016.
"She had a cluster of tiny, exquisite paintings all around her booth. I'm not normally attracted to representational painting, but there was a wairua (spirit) that pulled me in. The works were painted so tenderly and beautifully, portraying gentle moments that we can all recognise whether we're Māori or Pakeha. I bought three pieces, and not long after I began representing her."
Hiria's career has quickly gained traction. Her work was featured in the outstanding Toi Tu Toi Ora Contemporary Māori Art exhibition staged by Auckland Art Gallery Toi o Tamaki in 2020/21 and is held in collections belonging to the Auckland Art Gallery, the James Wallace Arts Trust and the Dowse Art Museum.
Meanwhile since graduating from Whitecliffe in 2014, Margaret has forged a successful career as both a painter and curator. Also part of the Toi Tu Toi Ora exhibition, she has exhibited work all around the world including at the Casablanca Biennale in Morocco in 2018 when she was part of a group show with four other female artists from the Pacific. Later this year Margaret will curate a show at Wairau, the first dedicated public Māori art gallery in the country.
More recent Whitecliffe graduate Maraea completed her MFA in 2019 and although she recently held a solo exhibition at Tauranga Art Gallery, Whenua/Whenua is her first dealer gallery show. She couldn't be more delighted.
"It's pretty exciting," says Maraea. "I first met Tim at one of our post-graduate Whitecliffe exhibitions in 2018 -2019. I really value the time he takes to engage with art student communities and their work."
We recently caught up with these three talented Whitecliffe wāhines to find out more about the work they're exhibiting in Whenua/Whenua…
Hiria Anderson-Mita
"I'm grateful to be amongst extraordinary Māori artists and peers who in our shared experiences as tangata whenua express and interpret our connections, disconnections and reconnections to the whenua in unique ways through toi.
"My father passed late last year and in these works I convey my return to his whenua. These paintings talk about 'connection' being called back to whenua through whakapapa. The absence of people note my personal 'disconnection' to the ahi kaa over my lifetime. The 'reconnection' is my presence at the paa at that time and getting to show you through paintings where I am from. These paintings seem personal but each of us has a real life story to tell of our own relationship to whenua. This exhibition has given me a platform to tell my story – a story which I haven't been able to put into words until now."
Margaret Aull
"The works I'm showing in Whenua/Whenua are very personal made for Under the Radar in 2020. I reached out to Hiria during lockdown for us to stay connected, so we made work. I started five works and then when levels dropped, I dropped them off on her deck and she worked on them. Essential services were only allowed during this time, but in my opinion, art is an essential service too – making work in a time of ambiguity and anxiety is vital for wellbeing. Both works in the show are reflection of how those times impacted on thinking, dreaming, whānau, ideation to signals and signage."
Maraea Timutimu
"It's very humbling to have the chance to exhibit alongside other artists I've followed and admired for a while. My works are literal representations of whenua, whenua portraits. They address the centrality of whenua within mātauranga Māori and the ways it can connect us to our stories, histories, identities and whakapapa. The suite of large-scale colour photographs are a play on portraiture; whenua (stones and rocks) are collected from the waterways of my maternal and paternal kāinga at Matapihi, Tauranga Moana, and Rūātoki, Eastern Bay of Plenty. They are composed into totemic forms that poetically stand in for people and places that are important to me."
Talk to our team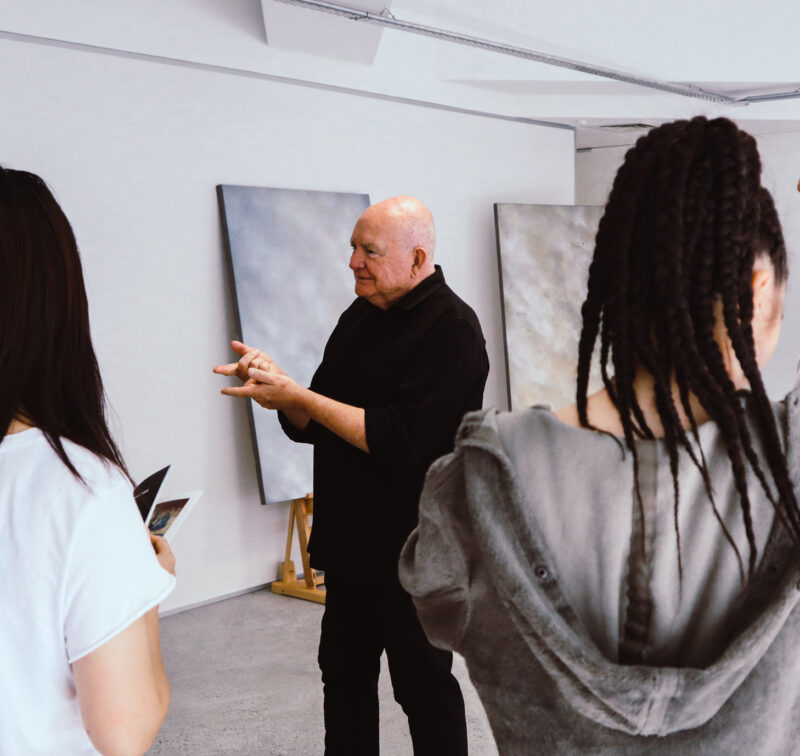 If you would like to ask us a question or request more information, please detail your enquiry using the form below. If you would like you can contact us directly on 0800 800 300, email us or use the contact us form.