Virginia Leonard Shows In Miami
"I made the switch to clay in 2013 and haven't picked up a paint brush since," says Virginia, who completed her Bachelor of Fine Arts at Whitecliffe in 1990 and returned a decade later to complete her master's.
It's been a decidedly average year for some, but for internationally acclaimed sculptor and Whitecliffe alumni Virginia Leonard, 2023 has been a cracker. Not only has Virginia been part of group shows in Melbourne, Shanghai and LA, but her "dynamic, colourful, space shattering works" are currently on show at Miami's Mindy Solomon Gallery (June 10 – July 29), she's got a solo exhibition at Gow Langsford in September, and in October she'll be exhibiting in London during Frieze Week.
For an artist that formally trained as a painter, her global success as a ceramicist is nothing short of mind blowing.
"I made the switch to clay in 2013 and haven't picked up a paint brush since," says Virginia, who completed her Bachelor of Fine Arts at Whitecliffe in 1990 and returned a decade later to complete her master's.
"I started to get into really thick paints and it got to the stage where I couldn't put any more paint on the surface because it would bow and buckle. Moving to clay felt like a natural progression."
But a peek at Splintered, her current exhibition in Miami, indicates that painting still remains an integral part of Virginia's work.
"If you look at my works, other than the form – which is obviously very important – the rest is about painting. After the final firing I paint on the work with resin. Yes it's sculpture, but it's just as much about painting as anything else."
Each of Virginia's vibrant creations ooze and drip with syrupy colour. Decades living with chronic pain and trauma are poured into her creative practice.
"My work is all about my body, every piece is a bit broken, and so am I. I had a terrible motorcycle accident in 1986 and have been living with chronic pain and PTSD ever since. That's really hard to talk about – in fact I don't talk about it - but through my practice I've found a language that allows me to articulate and express my daily struggles, which is really helpful."
Splintered is a two-person exhibition showcasing ten of Virginia's sculptures alongside large scale, multi-layered canvases by Californian abstract painter Ali Smith. Both women are described by gallerist Mindy Solomon as "envelope pushing artists with a penchant for explosive use of bright pigment". While Virginia attended the opening of the show, four weeks in and she has no idea how it's going.
"Once a show is up I take little interest in it. I figure my job is done and now it's up to the gallerist."
Besides, she's already immersing herself in the next exhibition, planning, scheming, and trying to figure out how to turn her ideas into reality.
"At the moment I'm trying to make a wall work, I'd like to do that for the Gow Langsford show. Then as soon as I get back from London I need to figure out how to make a fountain, as my Sydney gallerist Martin Browne has asked me to make one for the 2024 Melbourne Art Fair. He read my mind – I've always wanted to do a fountain!"
Represented by leading galleries in Auckland, Gisborne, Sydney, Barcelona, Geneva, and of course Miami, Virginia certainly has her bases covered. But in an industry where many have to turn to side hustles to make ends meet, how has this artist managed to become a global sensation (aside of course from her obvious talent!).
"Contemporary ceramics is massive worldwide now but I got in early – I probably started at just the right time. I also had a few lucky breaks. Really early in my career I had the opportunity to do a three-month residency in Denmark's Guldagergaard International Ceramic Research Centre, and that was where my work was first exposed to international galleries. I actually got picked up by both my American and Swiss galleries while I was in Denmark because a curator saw my work."
A residency at Glass House/Stone House in Chenaud, France in 2019 further strengthened her reputation in Europe, although Australia and the US remain her biggest markets.
Virginia has achieved a huge amount since her first foray into clay ten years ago. She has won multiple awards, and her sculptures can be found in public and private collections all around the world, from the Auckland Art Gallery Toi o Tāmaki through to New York's Ann Tennenenbaum Collection and Geneva's Musée Ariana. But is there any one piece that really stands out?
"That's a tough one," she admits. "I did a large-scale work for Objectspace (All I Want is a Facelift, 2018) that was on a plinth in their courtyard for over a year, and now it's in the Gallery of New South Wales. I don't know why but that's one piece I'm really proud of – sometimes you just make a really cracker work.
"Generally though, I think your favourite work is often the work you've just finished or the piece you are thinking of doing next. It's not a matter of making one thing that works really well and then saying 'great, I'm going to make another four or five of these'. Chances are the rest will be rubbish. You've always just got to keep pushing it and moving along."
To check out Virginia's Miami exhibition visit Mindy Solomon.com

Or to see more of her work go to virginialeonard.co.nz or follow her on Instagram @ginleonard
Talk to our team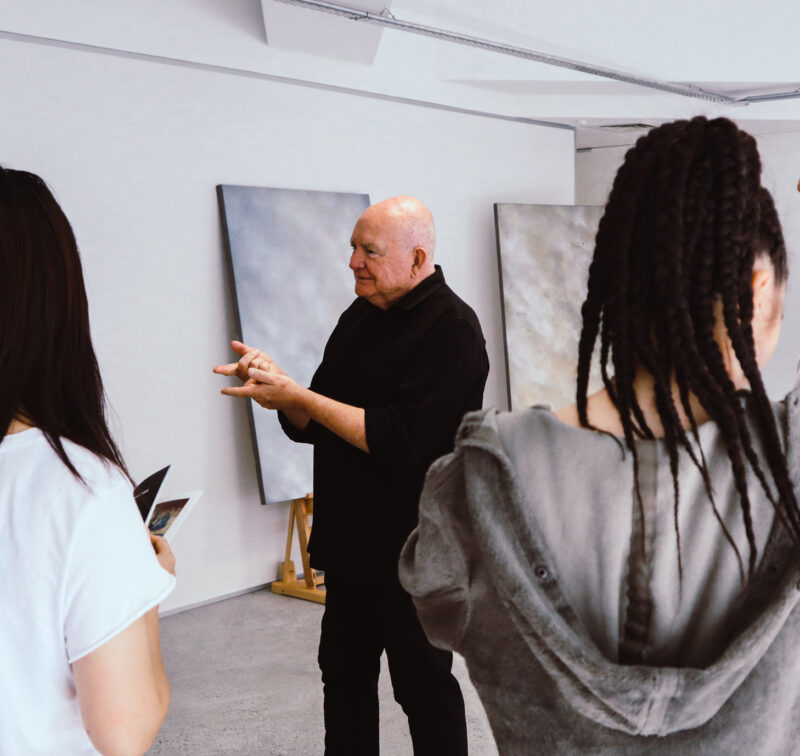 If you would like to ask us a question or request more information, please detail your enquiry using the form below. If you would like you can contact us directly on 0800 800 300, email us or use the contact us form.