Trent Williams: Creator and Pathfinder
"I absolutely love what I do, it's just so exciting to be involved in learning at this level. Don't get into software or tech if you don't want to learn more!"
Sometimes it takes a lifechanging event to nudge you in the right direction. In Trent Williams' case a devastating breakdown six years ago was the springboard to a new – and very niche – IT career.
A firmware engineer for next-generation energy management company Nexbe, Trent sits at the vanguard of the sector. He spends his days programming multiple chips and creating embedded systems for data communication, he's exposed to the likes of Nordic and ST, and he gets to work on revolutionary IT projects that most of us haven't heard of yet. Trent may have been to hell and back, but he couldn't be more excited about where he has landed.
"I'm in quite a niche space at Nexbe. I get to work on lots of cool stuff that isn't even out yet – we are right at the forefront of all that," says Trent.
But had it not been for his breakdown Trent could quite possibly still be working in IT sales, making great money, but not necessarily blazing a trail at the cutting edge of technology.
"I used to be an account manager for Snap (which later became 2degrees) and I always thought it would be cool to go back and study and learn more techy stuff. But it's quite hard to go back to being a student when you've got a good job, you're earning good money, and you're living a lifestyle that you've become accustomed to."
Having a breakdown changed all that.
"I couldn't do a single thing, I couldn't function, I even ended up in care for five weeks. After that I couldn't work anymore, so I thought I might as well go back and study!"
Whitecliffe offered the perfect solution. Studying at the Christchurch campus and gaining his Bachelor of Applied Information Technology has been transformational.
"I haven't looked back. I got straight A+'s for my degree and was top of my cohort. I loved all the learning and fueling my brain, and Whitecliffe was really flexible, allowing me to focus on the area I was particularly interested in – programming for smart devices."
As part of his studies Trent completed a project on self-driving cars, and undertook a six month internship at Nexbe – that was two-and-a-half years ago, and he's still there.
"I absolutely love what I do, it's just so exciting to be involved in learning at this level. Don't get into software or tech if you don't want to learn more!"
And when it comes to learning, he definitely walks the talk.
"Now I'm doing a Postgraduate Diploma in Ubiquitous Computing at Whitecliffe, expanding on some key topics covered in my degree. I'm hungry to keep feeding my mind, and this is the next level of making my brain hurt! I don't know where this will stop, but as long as I'm enjoying it I'm going to keep doing it."
Trent describes himself as "driven and busy" – but 'full noise' is possibly a more apt description. In addition to working fulltime and studying at Whitecliffe, he lives on a lifestyle block, is restoring a car, and has recently created his own smart switches in his home. He's fascinated by automation and smart homes, and is passionate about using technology to make our lives better.
"If I do my job right, you shouldn't know I've done my job! It's all about making a difference without people seeing it."
Although he admits new technology doesn't come without risks ("I'm not naïve"), he's incredibly hopeful about the power it can wield for good.
"A lot of people fear the effect AI and automation will have on the future, but there could be some very good things to come out of it for humanity. Technology is creating stuff that will really make a difference, and for me, that's pretty exciting."
Talk to our team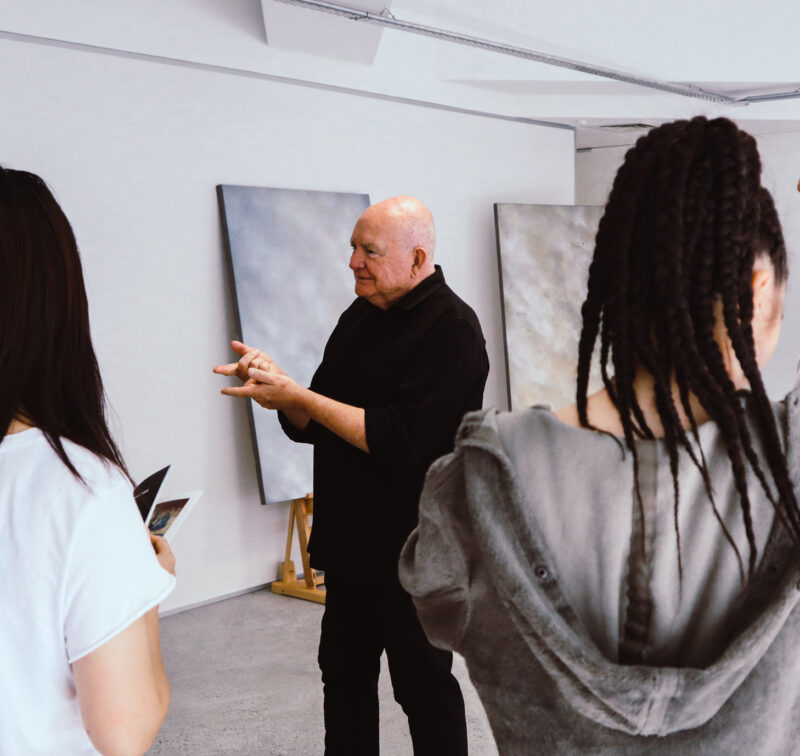 If you would like to ask us a question or request more information, please detail your enquiry using the form below. If you would like you can contact us directly on 0800 800 300, email us or use the contact us form.