New Programme Champions Arts in Te Tai Tokerau
Whitecliffe Fine Arts alumna Angela Rowe is injecting much needed support into Te Tai Tokerau Northland's creative sector with a new mentoring programme designed to help artists navigate the challenges of a creative career.

The eight-week Creative Practice Mentoring programme delivers workshops, studio critique and plenty of wellbeing support while equipping artists with the business tools they need to succeed - from learning how to write funding applications and project proposals, to approaching gallerists, putting together art award entries and even figuring out how much to charge for their work.

"I wanted to offer what I would have loved when I graduated from art school – the opportunity to learn the business side of things and benefit from ongoing professional development and the social support you don't necessarily get as an artist," says Angela, who completed her Bachelor of Fine Arts at Whitecliffe in 2004, and returned 15 years later to complete her Master's.
Since launching a successful pilot in Whangarei in 2021 Angela has been seeking funding to roll out the Creative Practice Mentoring programme regularly – and a recently announced $92K grant from Manatu Taonga Ministry for Culture and Heritage (MCH) has provided the financial backing she so desperately needs.
"Seeking the funding was a huge and exhausting undertaking that nearly broke me. I was in tears when I got the call from MCH to say I'd finally been successful. Their feedback was wonderful – they recognised the work I was doing and that it really was making an impact. Northland has taken a big hit in the creative sector, particularly with the loss of the NorthTec Applied Arts Degree programme. There is just not a lot of support for artists up here, and that's why what I'm doing is so needed. If we don't look after our artists they won't be able to continue doing their work, and that impacts not just the artists themselves, but the entire community."
After two decades as a practicing artist Angela is well-versed in the day-to-day struggles creatives face. Despite significant industry success - this year alone she was a Molly Morpeth Canaday Award finalist and her work was showcased in Art New Zealand - the rollercoaster ride of actually making a living has been gruelling.
"We are not good at looking after our artists. I've always had to juggle several part-time jobs to make ends meet (in addition to her own practice she works as a curator, mentor and writer), I've had to fund my own projects, and six years ago we moved to Whangarei because we couldn't afford to live in Auckland anymore. Trying to get reasonably paid work in the arts really gets you down. If you don't have kids you can apply for residencies and stuff like that, but if you are also raising a family it's very difficult."
But by sharing all that these trials and tribulations have taught her, Angela hopes she can make life a little easier for artists and creatives coming up through the sector behind her. In doing so she is helping to support the pipeline of fresh talent that's making its mark at Whitecliffe – an art school that has played a pivotal role in shaping her journey.
"University wasn't an option for me back when I left school, so I didn't get to Whitecliffe until I was in my early 20s. I always thought I'd be a painter but I kept making things with my hands, and during my bachelor's degree I found myself working more in sculpture and installation, exploring storytelling through relationships and the passing on of skills and rituals.
"After gaining my bachelor's I went off and had a family and did lots of different jobs, but I always wanted to do my Master's because I wanted the opportunity to do a deep dive into my work and also collaborate with others. Whitecliffe's low residency model was ideal because it meant I didn't need to be living in Auckland to do it."
What did Angela love most about her time at Whitecliffe?
"One of best things was being part of a cohort and having critical feedback from students and staff. Whitecliffe was able to draw in some brilliant artists and critics who I admired, and I relished the opportunity to learn from experts in their fields. I really valued that knowledge and being able to listen and be part of the conversation."
Talk to our team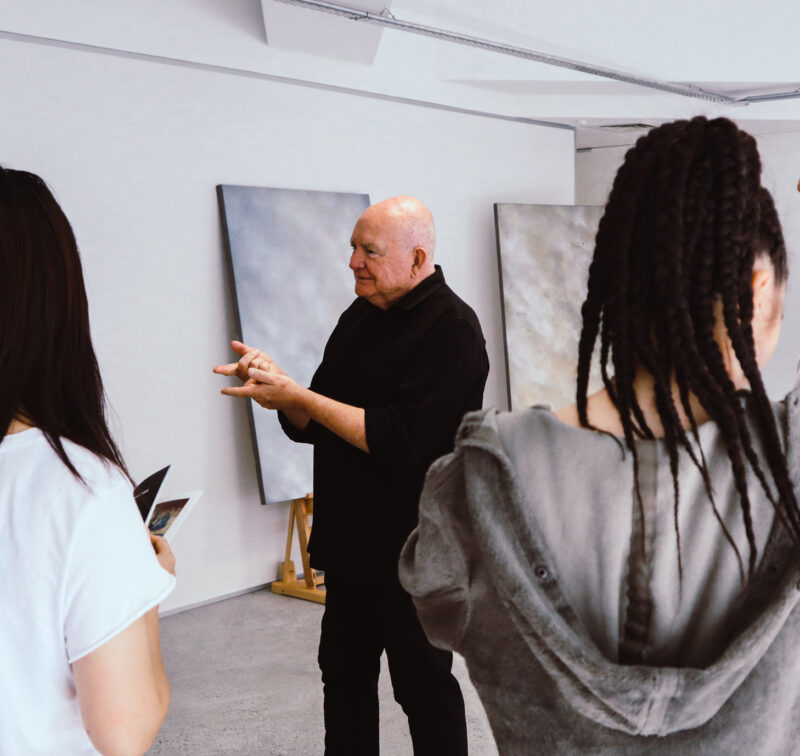 If you would like to ask us a question or request more information, please detail your enquiry using the form below. If you would like you can contact us directly on 0800 800 300, email us or use the contact us form.