Meet Melbourne-based Artist Harry McAlpine
In the seven years since graduating with a Bachelor in Fine Arts from Whitecliffe, artist Harry McAlpine has been blazing a trail.
Now based in Melbourne, he is represented by two highly regarded galleries (Chalk Horse, Sydney, and Laree Payne Gallery, Hamilton), his works are held in Auckland's prestigious Arts House Trust collection, and he's had multiple solo shows on both sides of the Tasman. He was also featured on the cover of Art Collector's 100th issue!
We catch up with Harry to find out more about his creative journey, and the impact Whitecliffe has had on his success.
Harry, tell us a bit about your work.
I guess it's technically what one would call photorealism, but primarily I think of myself as an image maker who combines technical faculty with an interest in the expanded operations of image-making – such as drawing, photography, and the performative actions that precipitate the production of imagery. As far as the subject of my work is concerned, my interests focus on humanity across time – a triangulation of past, present, and future. Naturally, this leads to a recurring examination of culture, our entanglement with technology, and the current character of human psychology.
Have you always been artistic?
I think I scribbled as much as any kid and never had any particular talent for it. In fact, I would say that I was across-the-board a rather mediocre kid, socially, academically, and athletically, and like most mediocre kids I opted for creative classes. Towards the last year of high school, something creative in me clicked, and for the first time, I received praise and validation from my peers. I think for someone at that age, that's a powerful motivator.
After high school, you completed a Bachelor of Fine Arts at Whitecliffe. What were the highlights?
My entire final year! Basically, given freedom and time to work on more ambitious projects while still benefiting from the input of one's peers and lecturers - and graduating with honours at the end of it - certainly didn't hurt my confidence as I departed student life and began the daunting process of trying to become an artist with a capital A.
I would be remiss if I didn't say that my other more meaningful highlight was meeting my now fiancée Kohl Tyler in our first year, sharing a studio the whole way through the four-year degree, and still sharing one to this day at home in Melbourne.
So why Melbourne?
The plan was never to settle here - but Melbourne is just too goddamn good. The quality of life is undeniable, everything from the arts, music, and pubs to the food, makes for an incredible city. Least of all is the fact that you can earn a liveable wage doing the most menial work (my first job upon arriving was washing dishes for $25 an hour!), which for a fine arts graduate is a big deal because you can work fewer hours and spend more time on your practice. Now I'm working as a picture framer which is a perfectly adjacent job to being a practicing artist, and it's for a wicked small business that I love. We love Melbourne so much that we now own a small two-bedroom unit that we're renovating and a cat that we're keeping just the way it is, so it's safe to say we'll be here for some time.
Are there more opportunities for you as an artist in Melbourne?
That's a hard one. New Zealand has a very robust and sincere art scene, but there's less disposable income floating around that might eventually find its way into artists' pockets, so in that sense yes. But with that comes its own corollary problem, which is that said disposable income has its way of influencing the art market, pulling it closer to something like interior design and less art for its own sake. And while there are technically more opportunities in Melbourne, there are also a large number of other young fresh-faced artists, so you're a smaller fish in a larger pond.
Walk us through your typical day.
Currently, I make all my work in a home studio I share with Kohl. A usual day sees me go to work for eight hours, come home, clean, cook, and pull three hours in the studio (usually with a coffee or two) from 8 to 11 pm. This can be taxing at times, but it's a meaningful slog and leaves me far more content than if all I had was idle time.

What is your biggest challenge?
The constant cycle of self-doubt that comes with being an artist. Will people like this? Will they think I'm being pretentious? Will they think I'm just repeating previous ideas? The thing to centre back to is that we have to make work for ourselves - not just primarily, but exclusively. Then, if done sincerely, some demographic of the population will identify with your work and find meaning in it – and if not, at least you've found some meaning in the process of breathing life into it.
What are you proudest of?
Being represented by the galleries that I am! I really believe in both their visions and the stables of other artists they represent and so I feel I'm in good hands. Laree Payne is doing a remarkable job with what is a rather young gallery, and it feels special to have gotten in on the ground floor and to grow as an artist and gallery concurrently. Also, I must admit that being on the cover of Art Collector felt pretty sweet!
How did studying at Whitecliffe help shape your practice?
I look back on my time at Whitecliffe as being incredibly pivotal for me, not just as an artist but as a thinking person. It was there that I was introduced to so many modes of making and thinking, offered conceptual frameworks to consider, as well as a suite of more practical lessons. The syllabus is designed to push and pull you, to stretch you out like a piece of putty so that you aren't so narrowly focused on one skill, medium, or style. They want you to become creatively flexible and conceptually thoughtful, and this syllabus is delivered by an amazing stable of lecturers, all experienced practitioners in the industry with varied skills and opinions.
What are you working on right now?
I'm currently working towards a solo show which opens in March 2024 at Oigall Projects, an independent commercial gallery in Fitzroy. The space is gorgeous and I'm looking forward to showing what will be my largest works to date.
Any other future plans you'd like to share?
What I'm most keen for is to be re-emerged into the institutional/academic art space surrounded by peers and professionals, in an environment that stokes experimentation and risk. The last few years have seen me move more into the commercial gallery space. I'm proud of these years but I feel a strong pull toward the 'art for art's sake' model which I so relished during my time at Whitecliffe, and toward experimenting with mediums that are adjacent to the image-making skills I've spent the last few years refining, such as film and moving image.
And finally, can you share your top tips for students currently studying Fine Arts at Whitecliffe?
Don't dismiss the lessons that focus on the less romantic but important aspects of being a practicing artist, like photo documentation of artwork, funding, and residency applications. These come in a lot handier than you might think!
When it comes to dealing with people in the industry, be organised, respect other people's time, and don't be entitled. Functioning in this space is not just about the quality of your work, but the quality of your character, and every interaction you have – good or bad – will contribute to the scale and breadth of opportunities you gain in the future.
Be willing to invest in yourself to make things happen, as few people will do it for you at the start. That means putting solo shows together on your own dime, throwing away those Kmart frames, and even hiring an exhibition space if you have to. Just keep making work, be solid and consistent, and don't be discouraged when you find yourself in a lull or you receive your fifth rejection in a row for an art prize. This is a slow game, and things will eventually fall into place as long as you just keep moving and making work that feels meaningful to you.


Talk to our team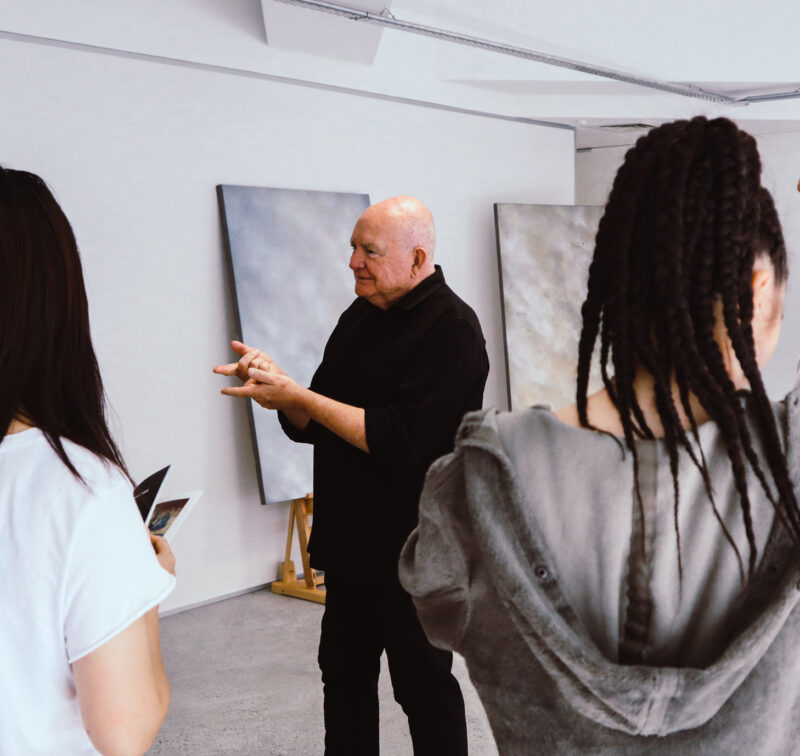 If you would like to ask us a question or request more information, please detail your enquiry using the form below. If you would like you can contact us directly on 0800 800 300, email us or use the contact us form.