Lifechanging experience for Prime Minister's Scholarship recipients
Lifechanging experience for Prime Minister's Scholarship recipients
A group of intrepid Whitecliffe students are travelling across India this month collaborating with local artisans to learn traditional crafts and deepen their knowledge of sustainable fashion practices.
Recipients of the prestigious 2023 Prime Minister's Scholarship for Asia, the students are passionate about expanding their skills through an international lens and share a keen interest in sustainable and ethical fashion and jewellery design principles. The six-week scholarship gives them a unique opportunity to embed environmentally and culturally sustainable practices – and time-honoured craft techniques - into their work while also fostering global relationships in the industry.
Thirteen students from the Bachelor of Sustainable Fashion Design and two from the Bachelor of Jewellery Design and Technology were selected as recipients of the scholarship, which was awarded to Whitecliffe Head of School Fashion and Sustainability Belinda Watt. The group is being hosted by leading Indian fashion and design college (and long-standing Whitecliffe partner) Pearl Academy, and will travel from Ahmedabad through the Kutch region, onto Rajasthan and eventually Delhi.
"This will be an amazing and life-changing experience," says Belinda. "Not only will it enrich students' continuing studies and design practice, but it will deepen their understanding of Indian craft, culture, and business practices."
This is the fourth year Whitecliffe students have been awarded the scholarship, which is funded by the New Zealand Government and administered by Education New Zealand to support Kiwis on learning experiences in Asia and Latin America. Whitecliffe's first PMSA sustainable fashion study trip to India took place in 2015, and since then the programme has gone from strength to strength.
"There are so many incredible benefits of a trip like this. The educational and cultural experience is astounding and students also bring back new skills, design practices, and methodologies."
For fashion student Ella Anne Cunningham the experience has reshaped her perspective on the fashion industry.
"This trip has shown me that there are people out there still practicing small-scale sustainable crafts and production," says Ella Anne. "The amount of care and pride that goes into all their work has given me hope for being part of the fashion industry and not feeling like a burden to people or the environment. Being able to see this firsthand has truly been so valuable to me."
A two-week internship at Kala Raksha has seen Whitecliffe and Pearl Academy students team up to collaborate with local artisans and create a collection of garments and accessories that will be presented to the New Zealand High Commission and exhibited in The Crafts Museum in New Delhi at the end of their trip. The exhibition will provide a platform to promote and contemporise traditional crafts for future generations and a global market.
Among the many other highlights are workshops in embroidery, applique, patchwork, jewellery and block printing, visits to several social enterprises dedicated to the preservation of traditional crafts, and a trip to Anokhi Studios to learn about sustainable business practices. Camel rides across the desert, Holi festival celebrations, copious amounts of roti, and unexpected visits from bats all add to the allure.
A melting pot of cultures, faiths, and traditions, the rich tapestry of India has a profound impact on all who visit, and Whitecliffe students are no exception.
Says Calla Zajonskowski-Sayers, "Reflecting on my time here, I'm feeling very grateful to have been able to see and learn the ethos of living in a place like Gujarat. I am reminded of te ao Māori and whanaungatanga in this little community we have nurtured for the past two weeks."
To find out more about what our Prime Minister's Scholarship recipients have been getting up to in India check out their blog: https://whitecliffestudentsinindia.wordpress.com/
Talk to our team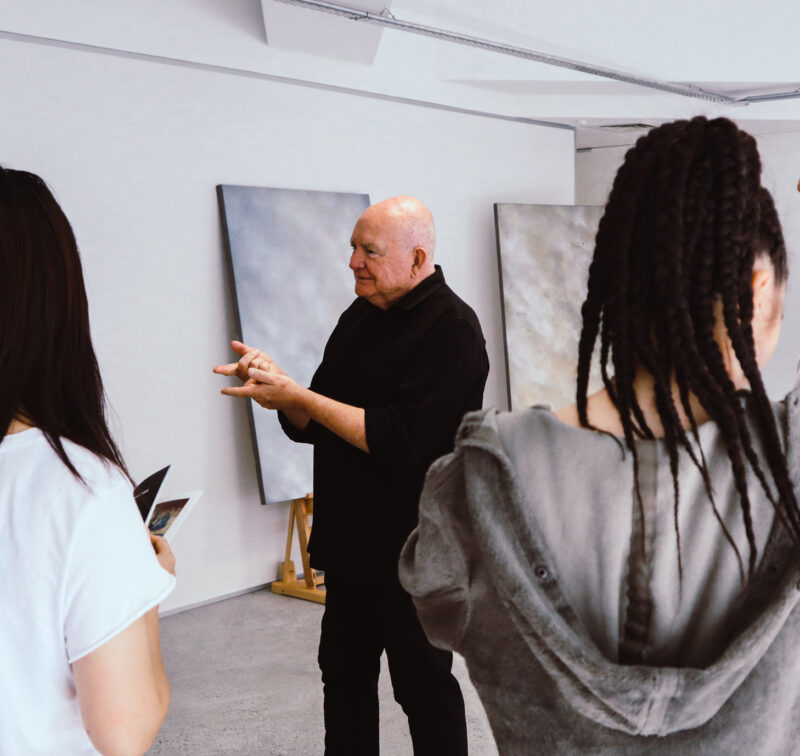 If you would like to ask us a question or request more information, please detail your enquiry using the form below. If you would like you can contact us directly on 0800 800 300, email us or use the contact us form.