Let's meet the Resene Colour of Fashion Finalists
Resene Colour of Fashion 2022 has wrapped and the winner, Henry Calkin of Kapiti, was announced at the Wellington Showcase event. In nine years more than 200 Whitecliffe students have been given a highly visible platform in the fashion industry on the strength of this partnership. The designs were inspired by the authenticity of nature; the tones of the earth; the rich, diverse colours of our local cultures, people and places; the colours of our world. There were 13 Finalists across Auckland and Wellington campus'.

The Auckland finalists are shown below.
Amy Harkness

Amy is a former equine nurse turned fashion professional. Her design in Resene Good to Go was inspired by twisting vines clinging to a forgotten forest hut, blanketing it, and securing it to the earth for fear of collapsing. A truly relevant concept for many of us today, that fear of collapsing and the need for something or someone to blanket and secure us to the earth.
Ann Horner
Ann is a neurosurgery nurse turned fashion professional. Her design in Resene Amped was inspired by pōhutukawa flowers, quintessential of New Zealand Christmas and summer. She instantly felt the strength and vibrancy of the paint name, the energy that is evident in many aspects of our natural world, specifically in how energy is transferred.
Basima Mohammad
Basima created a design in Resene Light Fantastic, inspired by a sun queen. As a wife and mother of six children, her inspiration was of a strong-willed woman who attracts her dream to make it a reality. Shining with success as the sun expresses a woman's elegance and femininity reflects her own journey.
Eileen Parr
Eileen's design in Resene Boost was inspired by the sea and adorned with seed lights which express the bioluminescent features of living organisms that light up the sea on a full moon. The silk fabric matches the waves with a smooth, soothing feeling similar to the sensation of when the water hits your feet as you try to chase it but cannot catch it.
Grace Peacock
Grace created a design in Resene Rulebreaker, inspired by the shapes of storm clouds. The roundness and weightlessness of clouds' puffy shapes, along with the depth and power of the colour inspired her design. She found the beauty of the storm clouds to be feminine yet powerful and unrestricted by rules. Society and fashion often influence how a woman is portrayed, however like the name 'rulebreaker', a woman can still portray herself as powerful and strong whilst maintaining her femininity.
Summer-Joy Wilkinson
Summer created a design in Resene Off the Grid, inspired by nature's flow, inner peace and wanderlust. Getting off the grid means to get away from your current situation, away from society, your own thoughts, your routine and going to a happy place where you can find your inner peace. Summer wanted her garment to represent nature's flow and importance in mental health in New Zealand.
Yin Ya Shi
Yin Ya created a design in Resene Key Largo, inspired by the glass in skyscrapers reflecting the colours of the sea. The design was personal to her, her local culture, people and places and the colours of her world. Surrounded by things in nature that we don't even notice in our day-to-day life, including the glass in the city skyscrapers made from the sand on the beach, her design is a rectangular shift dress with a repetitive triangular shape which mirrors the silhouette of skyscrapers and the shapes of the glass exterior.
Following are the finalists from Wellington.


Henry Calkin

Henry created a design in Resene Grape Escape, inspired by the Matariki star cluster. During Matariki, we are reminded that it is important to escape reality. Not because reality is sad or miserable, but because fantasy and myth are such sweet places to visit. When lit up in the night sky, Matariki and her daughters are a true natural spectacle to behold. The colour of his design is the perfect symbol for the night sky during Matariki and anybody who wears this design will shine like Matariki and her daughters.
Janita Vasconceles-Abery
Janita's design in Resene Boost was inspired by the 'tingle' feeling of the forest. Her garment is an attempt at representing this feeling – the tingle that runs through the body as you take in the forest's atmosphere. "As I revitalise. As I heal". Her design research began with synonyms for the word 'boost' which brought her to words like 'uplift' and 'swell'. From there, she made the personal connection to how being in a forest is like medicine – how taking in the forest atmosphere uplifts her, the energy tingling as she moves through the trees.
Nina Stuart-Manning
Nina created a design in Resene Kombucha, inspired by the concept that 'the artist is nature.' Always fascinated by the little things you see on an everyday basis that normally people would pass as being a fault, Nina immediately associated her colour with rust which she finds quite beautiful. It's a natural piece of art that paints itself, and the artist is nature. It's amazing to see things age, just like human beings, with experiences, relationships we grow and change; just like metal, with age and life, it begins to add character, and bleeds into this amazing masterpiece with all different hues of orange and red.
Sophelia Hook
Sophelia created a design in Resene Very Berry, inspired by the spiral of a snail shell. Learning the significance and wealth of this colour, Sophelia wanted to honour it with an elegant, feminine silhouette and utilised the natural drape of the silk fabric to showcase the way this colour appears different from many perspectives.
William Pan
William's design in Resene Tarzan was inspired by waking up in the early morning and immersing yourself in your surroundings. Green always had a presence in his home, William's mum firmly believed it gave good luck and strong calm energies. The theme and idea of 'wake up…' is change, growth, atavism, realisation. Open your eyes, look around your environment, appreciate it, immerse yourself.
Bodeen Stewart
Bodeen created a design in Resene Coconut Ice, inspired by her local west coast native bush and the texture of wild mushrooms and their cascading, textural pink beauty. It was integral to honour the natural beauty of the silk which offers such beautiful drape and lustre and bring in the textural intrigue of the mushrooms. To pay homage to mycelium (the root system beneath the mushroom) and the plight of sustainable fashion Bodeen's garment is zero waste, with fabric remnants worked into the bodice to emulate the organic irregularity of mushrooms.
Talk to our team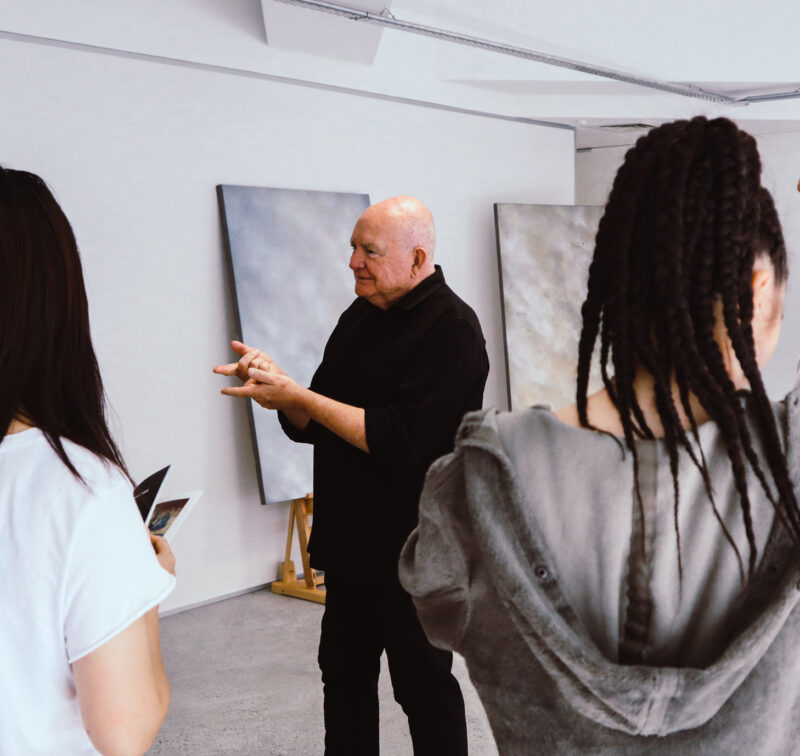 If you would like to ask us a question or request more information, please detail your enquiry using the form below. If you would like you can contact us directly on 0800 800 300, email us or use the contact us form.