Artforum sits down with Christina Pataialii
Lucinda Bennett at Artforum did a write up on MFA Alumni Christina Pataialii and her tremendous piece - Proximity and Distance that was installed at Tauranga Art Gallery.
While Christina Pataialii has always used house paint as a medium alongside acrylic, she has never applied it quite so literally as in "Proximity and Distance": She painted directly onto the two largest walls of Tauranga Art Gallery's cavernous atrium, as well as on sections of painters' drop cloth that had been stapled to the wall. While many painters would be put off by the sheer size of the space, Pataialii seemed comfortable with the scale. Compositionally, the two main walls functioned as smaller works that had been scaled up, with none of the artist's usual level of detail lost but with layers of texture and painterly effects that couldn't be achieved on a normal-size canvas—effects both figurative and structural. At this scale, a gray orb placed high immediately becomes a moon, and brushstrokes extend as far as an arm could possibly take them, so that the language of paint melds with that of architecture.
Pataialii's layering of acrylic and house paint on painted fabric over painted walls creates a sense of ongoingness, conjuring the dynamic familiarity of urban spaces, where the colors and signage of a building facade may shift but the architecture remains the same. Oily layers build up from pollution and the grime of daily life, kids tag the wall, municipal workers roller mismatched putty pinks over their marks, but the wall is still the same one you walk by every day. And by the time you read this, after the exhibition has ended, these walls will have been sanded back and Pataialii's marks rolled over, but not before her drop-cloth paintings are removed, after which they can be stretched or just rolled up like rugs, travel-ready and open to endless reimaginings in new contexts.
This is the tension in Pataialii's work. There is always a push and pull between permanence and transience, between the settled and the adaptive. This opposition plays out in part through her materials—the energetic acrylic arcs jutting up against the unrelenting flatness of house paint—but also by means of a cultural dichotomy, one that becomes clearer as the viewer steps back and sees abstracted forms coagulate into the vernacular motifs that feature heavily in her work. Here are the spiky treads of work boots or rugby boots—or perhaps they aren't boots at all but fence posts encircling a plot of land. Either way, they signal a kind of belonging, whether to a class, a team, or a place. It is through these personally significant motifs that Pataialii pulls the viewer into the cultural space of the painting. Even her use of pastels recalls the soft, sun-bleached tones of Auckland's famously well-built state housing, homes in historically low-income areas that now sell for millions. This is a palette that feels familiar to anyone who has spent time in those neighborhoods, but it is also a distinctly 1960s palette that was popular in New Zealand when Pataialii's dad immigrated from Samoa and worked as a housepainter. These warm colors evoke nostalgia, but for a time Pataialii is too young to remember, a time when air travel and television were shrinking the world. It was also a time of increased global mobility that saw Samoan people immigrating to New Zealand in large numbers, when demand for labor was high—until the economic decline that followed the oil crises of the 1970s, when a government looking for scapegoats turned to violent dawn raids in search of Pacific immigrants who'd overstayed their visas. Pataialii's pink-and-brown palette acknowledges the Janus face of history and the double-edged sword of nostalgia. Hers is a form of abstraction that owes its debt to public housing and her immigrant father as much as it does to modernism.



Written by Lucinda Bennett, posted first on Artforum
Talk to our team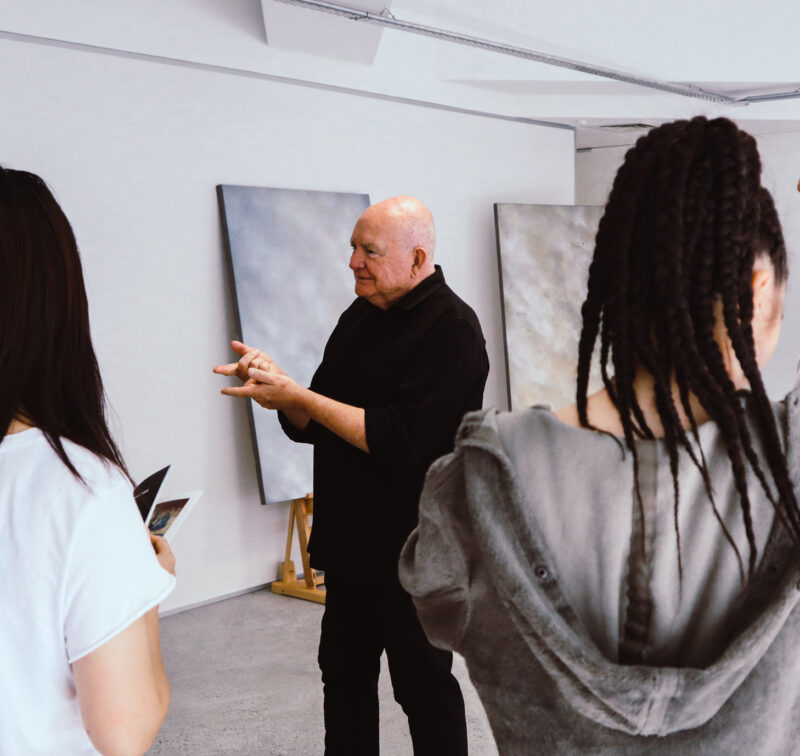 If you would like to ask us a question or request more information, please detail your enquiry using the form below. If you would like you can contact us directly on 0800 800 300, email us or use the contact us form.