Alumni Spotlight: Minxi Chen
An interview with fashion designer Minxi Chen. Whitecliffe alumni, fashion designer, and co-founder of the luxury brand, Cruz Del Sur. Minxi Chen talks with us about her passion for creating fashion brands and intertwining her love for Chinese culture into the design of her clothing.

My name is Minxi Chen. I'm a fashion designer and the founder of Midnight Blue Fashion Studio. The co-founder of Cruz Del Sur and designer; and I actually also have my own line Minxi. It's this kind of simple style which I'm wearing. So, I'm running two fashion brands.
Why did you decide to study at Whitecliffe?
I had an international student agent and he had a student who was doing Fine Art in Whitecliffe. Both of them recommended Whitecliffe highly to me. They had said "in this school they usually work in small groups and you get more opportunity to talk to your tutor." I thought, rather than studying in a big College… I want to study in a school [which] works in small groups and I can talk to my tutor more about my ideas, learn more things. So, that's why I choose Whitecliffe.
What were some valuable skills the lecturer taught you?
How to liberate your idea, to combine it with art and through fabric to [create] fashion and how to develop your creativity. I think it's quite important and valuable.
After graduation how did this line come about?
After I graduated I went to Queenstown for two years and worked for a Possum Merino brand. After the two years, I came back and did a part-time job at a retail shop. After that, I thought, "oh, maybe it's time to start my little studio".
There was a lady I met at an event who was running a kids modelling school. She approached me to discuss opening a brand for kids and I was thinking "oh that's a good idea". It's an area I've never tried but I am very interested in. So, she had the kids that model and I had the fashion design ideas, I can do design. I gave the brand a name, started the brand and [we did] our first fashion show in 2020.
What is the intention of your garments?
I'll tell you a story. I had a model who'd come for a fitting before the fashion show. It was a very beautiful gold jacket, dress and inside a black shirt with beautiful Florence. Once she put on the outfit, she started to sing like the Oprah. I was like, "oh, did you learn Opera?" She said, "I don't, I don't know how to sing, but, when I put on your garments I just want to sing Oprah!" So, I guess that's what I want my customer or the people who wear my garments to feel.
It like feels like I'm already liberating my ideas through the fabric, through the silhouette and telling them a story behind the clothes. I feel [that is] success, to make them feel lyrical, musical, powerful, like what I say in my lookbook.
Why is Chinese culture so important in the making of your garments?
I always pick something I'm really passionate about and I have a full understanding of. Study it and try to know more about it, speak to it and transform it into my design. So that will keep inspiring me, yeah, and help me to finish the whole collection.
What does ethical and sustainable design mean to you?
For Minxi brand, I use a lot of 100% cotton, linen, these sort of fabrics. I guess it's because… I feel like as I'm growing up more and more I want to wear more sustainable things.
So, for the Minxi brand I want to create something natural, comfortable, sustainable for people. For Cruz Del Sur, for kids, lots of kid's skin is so sensitive, delicate. For our ready to wear we use lots of natural fabrics, like silk, cotton which is friendly to skin and we also try to make it more sustainable in the future. Not only fabric, clothes also packaging things.
For Minxi brand, we don't really do seasons and seasonal things. We do custom made, which means we don't have that much stock. This I think will help more with the environment, to do made-to-order things, piece by piece, rather than a bunch of clothes.
What inspires your fashion design ideas?
There are so many things I love, like culture, books, opera, music. Yeah, different things that will make me feel excited. I go and find them, try to know more about them and do different kinds of research and transform all the ideas into designs so that's really exciting.
What are your future goals as a fashion designer?
That's so easy and simple for me- I just want more people to know my two brands and for more people to wear them and feel comfortable and find themselves. Some people, when they put on the right garment they feel like "oh, it's me". [Fashion can] make people feel confident [and] comfortable. It's like wearing something, but not wearing things… You know, like, comfortable… it's like fabric, clothes and the people themselves. It's all together being one.
What advice would you give to an aspiring student studying sustainable fashion?
Always be passionate about what they love and again like I said [before] get to know more about it, speak to it and transform it into the career.
What does Create Meaningful Change mean to you?
I can't think about any big, big change but I can think about… like for example, when I was doing Cruz Del Sur we were preparing for the first collection. There were lots of kids models coming for fitting. They all were quite different and I could see the change in them once they put on the clothes that I customized for [each of] them. They feel very confident, happy, yeah I think I guess that is the strength I give them.
Talk to our team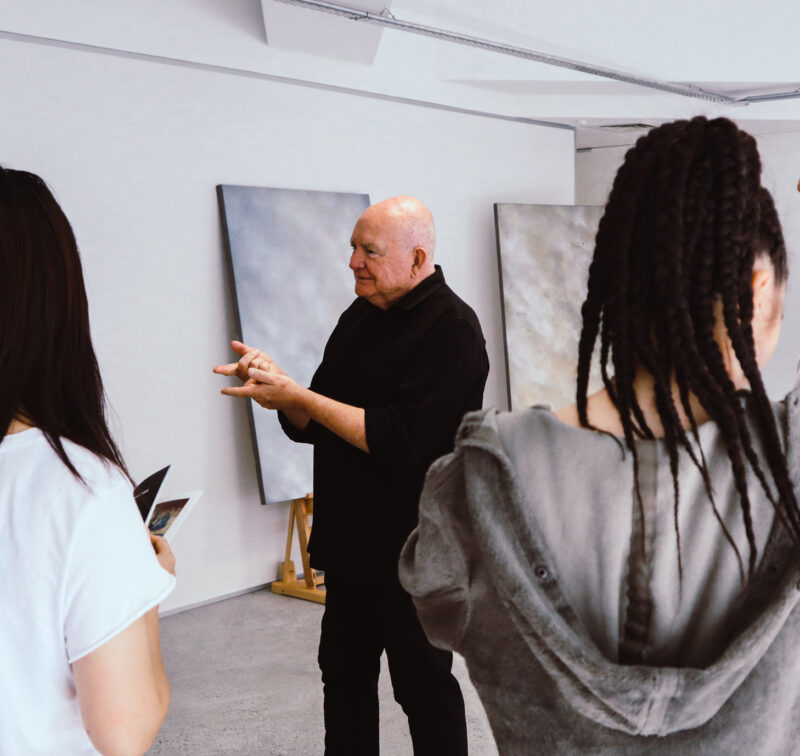 If you would like to ask us a question or request more information, please detail your enquiry using the form below. If you would like you can contact us directly on 0800 800 300, email us or use the contact us form.