Alumni Spotlight: Julie Cromwell
Julie Cromwell graduated from the School of Fine Arts in 2019, and proudly acknowledges that pursuing the Master of Fine Arts programme was the best thing she could have ever done for her practice. From a young age, Julie found herself mesmerised by the process of crafting ceramics.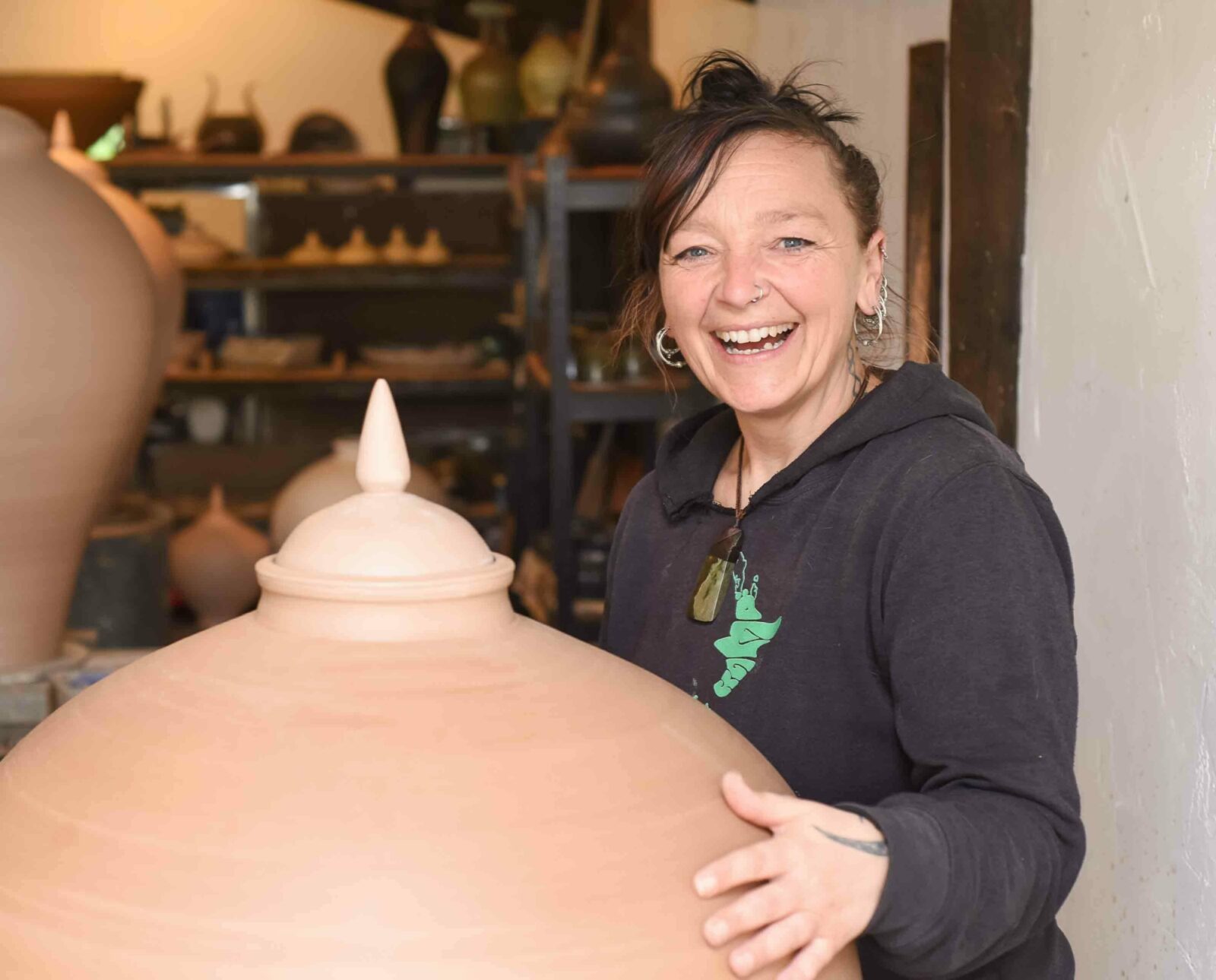 The Master of Fine Arts programme assists artists from all different academic backgrounds as they expand their knowledge by pushing themselves and their art further. Julie Cromwell graduated from the School of Fine Arts in 2019, and proudly acknowledges that pursuing the Master of Fine Arts programme was the best thing she could have ever done for her practice.
From a young age, Julie found herself mesmerised by the process of crafting clay while at school in the UK. After she graduated from high school, she studied a foundation course in art and design. Although she was introduced to many different art mediums, she found herself in the ceramics studio at every opportunity she got. The throwing process quickly became her meditation space, and a realm to explore and make sense of her world and the wider world around her. "It's a really beautiful feeling because it brings the creator a sense of calmness, and that tactile hand-made process of getting back to something so basic feels so grounding," she explains. Because Julie found her passion early on, she went straight on to study a Diploma in Studio Ceramics. Following this, she gained a qualification to teach secondary school students which she did for twenty years (up until 2016) both in the UK and in New Zealand while still practicing as a ceramics artist.
In 2017, Julie decided to fulfil her long-term goal of pursuing a Master of Fine Arts qualification. "Giving up that full time teaching role to embark upon developing my own practice after such a long time was nerve-racking, but the desire to do the programme was burning inside," she recalls. Julie chose to study at Whitecliffe because the programme structure implemented a good balance of practical and conceptual work which suited her learning and creating style. "The written component, being that it's a continuum throughout the whole programme really played more to my strengths because I am more of a practical learner", she explains. As well as this, Julie credits the general ethos of Whitecliffe as another reason why she gravitated towards studying in the School of Fine Arts. "My first impression was that it was a really personable environment, I loved it and I just felt that Whitecliffe really suited me."
The Master of Fine Arts programme, which was spread out over two years, consisted of four seminars per year where the students came together as a group regardless of whether they were in their first or second year. Julie found great value in these seminars because the students were able to see the development of each other's artwork as well as gain insight into how the programme pans out. "There was immense delight in being prodded, poked and pushed by the students and lecturers because they really delved into who I am as a person and what my artwork was about - which is exactly what I wanted to get out of the Master of Fine Arts, especially after wanting to do it for so many years but never having the time to do it," Julie says. She especially appreciated how the programme incorporated visitations to the students' own studios from the supervisors. "When I make the work, it's really interesting for people to see where I am and how I operate because that's such a big part of what goes into the work I put out," she explains.
The contextual side of the programme was highly valuable and memorable for Julie. The physical making of the work has always been number one for me, but learning and developing the contextual language and being able to pair the two components succinctly was great," she says. The exhibitions were another highlight for Julie because it challenged the way her work was received and experienced by its viewers. "Whitecliffe helped me to discover the way in which you can feel the energy of the work in different ways depending on how you display or exhibit the work. So that learning was fantastic for me, that I got to experience and play around with the different ways that the viewer could experience it," she says.
For Julie, the supportive and genuine relationships that were formed between students is another memorable moment of studying at Whitecliffe. "There's a real sense of shared experience, especially because I was studying alongside them for two years. We could always bounce off each other and communicate with each other, and that was invaluable for me," she says, "the connections that I made, are still there today."
Since graduating, Julie has taken advantage of all the amazing opportunities that have found her as a result of hard work and dedication. She was one of four students selected from Whitecliffe to submit a piece of work for the Glaister Ennor awards exhibition at the Sanderson Contemporary Gallery. Out of 16 pieces submitted by artists from various universities, Julie won first place. After winning, she was asked to be one of the artists represented by the Sanderson Contemporary Gallery which she gratefully accepted. Through them, she has displayed exhibitions, showcased her work at the art fair, and been in various magazines. More recently, she has applied for the Richard T Nelson awards and been accepted as one of the finalists.
Julie offers some advice for aspiring artists who are currently studying at Whitecliffe. "Stick with it! I don't think it's easy but even if you don't realise it at the time, it's the best thing you can do for yourself either personally or in terms of your art," she says.
In terms of her future goals as an artist, Julie tries not to have any preconceived ideas about her future as an artist. "I try and work in the now. I trust that I've got the ability. I've just got to let go; I don't want to have to anchor after something so badly that I lose sight of everything else that's going on. I just try and go with the flow of how it's working out. Trust in it and appreciate it, and then what will be will be," she explains.
Creating meaningful change is important to Julie, and she actualises this message in various ways. One of the most significant parts of Julie's artwork is the exhibition and viewing process. Because throwing the work is such a happy and meditative space for Julie, the intention of her art has always been to communicate a sense of calmness to its viewers. In a chaotic world, Julie acknowledges how necessary this opportunity to pause is, both for her when she is creating the art, and for the audience viewing her work. When her work can provide that peace for its audience, it's evident that meaningful change has been created.

To view more of Julie's work, click here
Talk to our team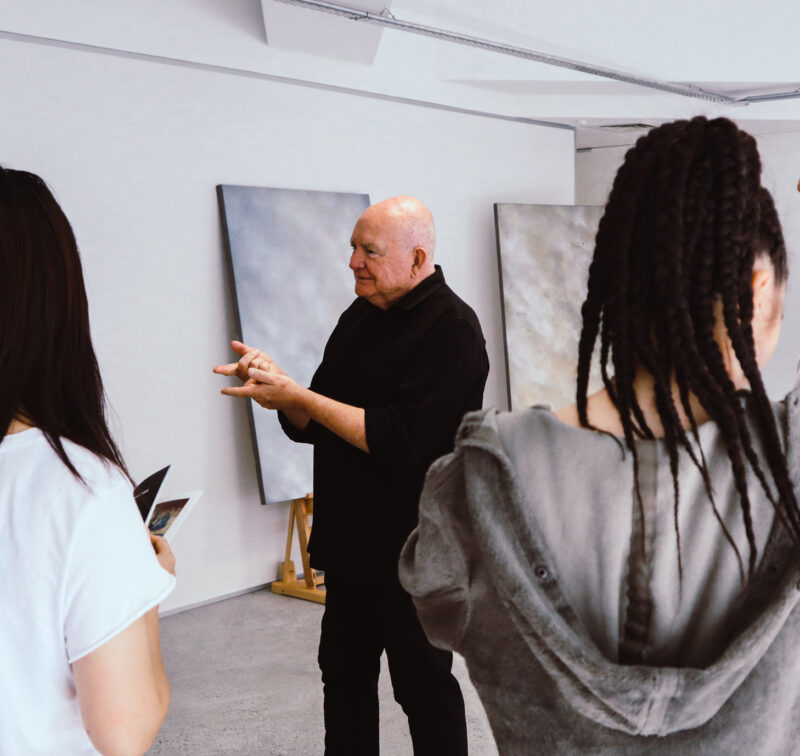 If you would like to ask us a question or request more information, please detail your enquiry using the form below. If you would like you can contact us directly on 0800 800 300, email us or use the contact us form.