Alumni spotlight: Hulita Koloi
Hulita Koloi's five years of studying at Whitecliffe have recently come to an end, and although she has already achieved so much in only a short amount of time, her career as an artist is only just beginning.
Hulita Koloi's five years of studying at Whitecliffe have recently come to an end, and although she has already achieved so much in only a short amount of time, her career as an artist is only just beginning.
Hulita successfully completed her undergraduate and postgraduate study in the Whitecliffe School of Fine Arts where she pursued the Bachelor of Fine Arts, Bachelor of Fine Arts (Honours), and then proceeded to the Master of Fine Arts. For Hulita, Whitecliffe stood out amongst other schools because of its reputation, "I talked to a few artists when I was deciding where to study, and Whitecliffe just always seemed to pop up as the top pick. I was also drawn to studying there because of the smaller class sizes which provide more opportunities for one-on-one time. That feedback is important because it's where you can grow personally as well as increase your artistic goals," she explains. Immediately, Hulita knew she made the right decision to study at Whitecliffe. She was warmly welcomed to the school and appreciated the seamless structure of the programme from the outset.
While studying and trying out various art practices, Hulita discovered that large scale sculpture installation is not only her specialism, but her passion too. She quickly realised that the process of creating such large bodies of artwork helped her to feel closely connected to her cultural identity. "Being Tongan and feeling connected to my cultural identity was quite hard to do growing up in New Zealand. A lot of the practices and events that we do as Tongans is communal, and the aim is always to involve as many people as possible and come together to get a project done. I took that same approach with creating my art and incorporated it into the building style. Because it is large scale installation sculpture work, it requires a lot of people to get it all done. I liked that it wasn't so independent. I got to communally work with others, learn from them and create artwork that we can all celebrate and share together. That is what pushed me to continue in that direction", she explains.
Hulita has many personal highlights of studying at Whitecliffe, but her most memorable moments revolve around the social aspect of the school. "I spent a lot of late nights getting work done with other student artists. I would find myself at McDonald's with them at 3am after a long night of trying to get our projects finished. That support system that you're able to foster during your years studying is so important. I love the way that that Whitecliffe really encourages it," she reflects.
As a student, Hulita was able to get a taste of life as a practicing artist because of her devoted involvement in several projects. "Because of my art, and the skills I learnt at Whitecliffe, I've found myself in lots of different spaces that I never thought of being in," she explains. "I've done a lot of community projects and have worked with Creative Souls, I've gotten to co-curate a couple of shows at Te Uru gallery through them. I've been involved in the Fresh One Project which is about supporting emerging artists that haven't been able to easily access art spaces previously. I've done projects that focus on supporting small Pacific and Māori businesses through COVID. I've been part of a climate change conference which focused on ways to mitigate climate change within the Pacific, which led me to present to the Wellington Government House where I got to showcase some of my artwork which was incredible." Hulita has plans to continue pursuing meaningful projects that combine her passion for community and collaboration.
To further expand on her specialism, Hulita completed a carpentry course to pair with her Whitecliffe qualifications. "There are a lot of building elements that I need to know to be able to participate thoroughly in my own projects because they are so big. I think just that experience of not being able to help in the project even further pushed me to go into the carpentry course. It was just important to me to develop my skills. Through that decision, it will push my art to keep evolving, and now when I'm thinking about concepts, I will have a much better idea on whether it is possible to carry out. It also relates back to the idea of collaboration and being able to create alongside others, which I value," she explains.
Hulita credits her supportive parents for inspiring her art. "I'm so fortunate because my parents have both been really involved in my process. A lot of the ideas that provide cultural and conceptual underpinnings began from conversations with them. They both work in the communities in different ways, so I'm exposed to a lot of challenges that our Moana communities face," she explains. "As an artist, I have the privilege to pick up on these experiences and narratives and create work that hopefully is meaningful and challenges the way that people think about our communities and even how we think about ourselves too."
Hulita offers some advice to aspiring artists who are currently studying. "Pick up what you like and really push on that, the other things will fall into place. Experiment with ideas that seem too crazy because Whitecliffe is the best place to do it. You have so much space and support. It's so important to be open to change!"
"Growing up, you're always told to leave a place better than when you found it. I think for me, that is what creating meaningful change is about. Whatever spaces you fill, wherever you're going and whatever your contribution may be, big or small, if you can change it or improve it, I think that's more than enough. It doesn't have to be huge all the time."
Talk to our team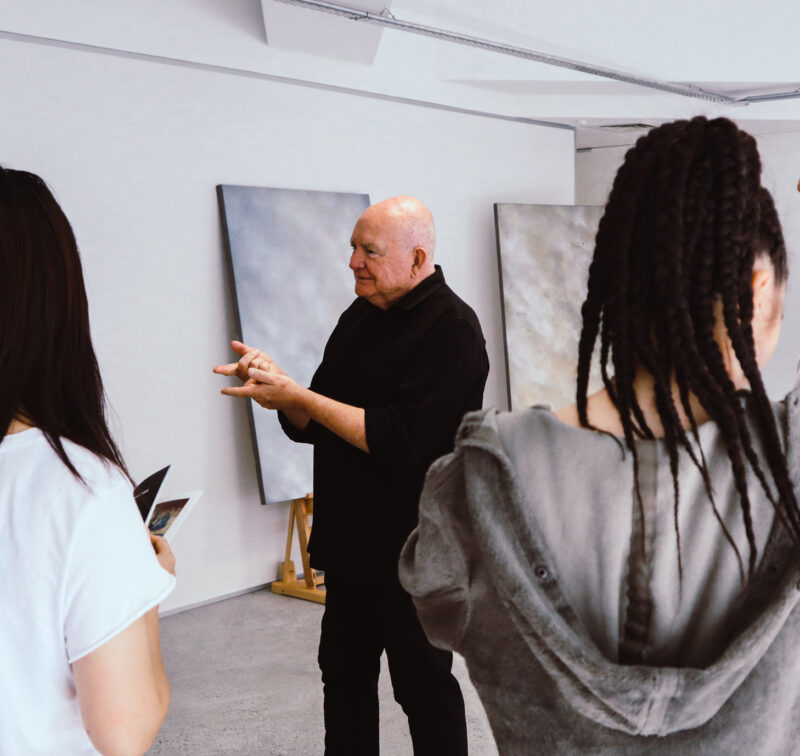 If you would like to ask us a question or request more information, please detail your enquiry using the form below. If you would like you can contact us directly on 0800 800 300, email us or use the contact us form.