Bachelor of Fine Arts - Fine Arts
The Fine Arts programme focuses on contemporary arts practice, current theoretical concerns, and formal visual languages.
Our focus is on encouraging the emergence and development of a meaningful artistic practice through a range of creative media. This is underpinned and supported by teaching the necessary skills, techniques, and methodologies to foster students' creative, practical, and contextual development.


Duration
3 years full-time in Auckland
Qualification
Bachelor's Degree (Level 7) 360 credits
Costs
2020 Domestic $8,953 2020 International $27,000 Fees free applies All 2021 fees are subject to change and regulatory approval
View full fees
Bachelor of Fine Arts - Fine Arts Course Outline
The Fine Arts programme focuses on contemporary arts practice, current theoretical concerns, and formal visual languages.
By understanding and operating within the ever-expanding field of visual art, our students learn to adapt quickly, think critically and take a lead in shaping contemporary culture.
Why choose Fine Arts at Whitecliffe?
The Fine Arts programme focuses on contemporary art practice, current theoretical concerns and formal visual languages.
Our focus is on encouraging the emergence and development of a meaningful artistic practice through a range of creative media. This is underpinned and supported by teaching the necessary skills, techniques and methodologies to foster student's creative, practical and contextual development.
Students are encouraged to engage with the various aspects of painting, drawing, printmaking, photography, video, digital media and spatial activation. We also offer workshops and special topics classes throughout each year, focusing on specialised areas including moving image and 3D installation.
Whitecliffe gives students individual studio spaces, which can be accessed seven days a week. At the end of each semester, students stage formal assessment exhibitions within their studio spaces. These displays provide opportunities for showcasing work and are essential for resolving existing ideas and considering new directions.
The Whitecliffe Studios provides an excellent site for students, faculty and visiting artists to exhibit. These exhibitions expose students to professional contemporary practice and give them the opportunity to engage with the wider arts community. Students are also encouraged to explore other exhibition initiatives such as artist-run spaces, commercial galleries, and site-specific public spaces.
Exciting and fulfilling career opportunities await the successful Whitecliffe Fine Arts graduate in all areas of the creative industry. For those students considering further study, our BFA degree is nationally and internationally recognised, with many of our top students entering into postgraduate programmes in New Zealand and abroad.
Year One
Year one for fine arts students includes a combination of both general arts and design with specialist fine arts courses. The programme covers practical and theoretical skills and knowledge where students develop core skills in design, drawing, materials and processes, together with critical and contextual studies.
Study includes supervised studio practice, lectures, tutorials and self-directed learning. Visual theory, cultural studies and modern art and design history introduce the vocabulary of art history and contemporary theory in support of practical courses and fine art studio practice. Students will be taught both historical models and contemporary content specific to fine arts.
The semester one programme is specifically intended to best prepare students for one fo the BFA specialist areas. Students are guided through structured projects in the first semester and examine the process of drawing, art-making, and design within the compulsory courses: 5101 drawing, 5102 design, 5103 materials + processes, before starting their specialism in the second semester. Students also participate in intensive week-long workshops that enable them to collaborate in teams and/or work independently to produce collective creative outcomes. Workshop projects may include co-producing a graphic novel, Tikanga Maori and harakeke weaving techniques.
Critical + Contextual Studies
A fully integrated programme of critical and contextual studies supports all studio specialisms. Visual theory initiates students into the language of critical discourse and critique. Students learn to analyse, critique, discuss, write and conduct research related to the practice of art and design. Cultural studies and modern art and design history assist students in positioning their art and design practice within a broader cultural and historical context.
Year One Fine Art Courses
Students wishing to specialise in Fine Arts will be required to complete 5200 studio practice: fine arts in the second semester. This course is considered fundamental to contemporary art practice and will include a balance of contemporary and traditional skills, knowledge and research practice. For example, the course content may include the following:
Principles and practices in the production of two and three dimensional art
Exploration of conceptual and formal visual elements
Methods, materials and processes
Issues in contemporary art: drawing, painting, printmaking, video, sculpture and installation art
Genre and the critical evaluation of work within a cultural framework
5202 Community Engagement
5203 Painting
5302 Screen Printing
5402 Graphic Print Processes
5403 Mapping for Graphic Design
5404 Publication Design
5502 Reading the Photographic Image
5503 Intermedia
5504 Digital Imaging
Year One Supplementary Electives
Additional to the specialist courses, students have an opportunity to select from a range of elective courses. Elective courses enable the year one student to test out other specialist areas, before firming up their decision to specialise in a subject area. Elective courses may include the following:
Year Two
Year two fine arts students develop a broad learning base utilising a variety of media. In semester one, students participate in a series of set assignments, special topics and workshops that assist them to evaluate complex issues and discuss critical frameworks relevant to contemporary art practice. In semester two, students focus on the transition from working with set assignments to work on extended studio based visual and theoretical research. Intensive individual supervision from the faculty supports their creative, practical and contextual development. At the end of each semester students stage formal assessment exhibitions within their studio spaces, which provide opportunities for showcasing work, resolving ideas and considering new directions.
Entrepreneurship I provides an opportunity for year two students to apply their creative, practical and theoretical knowledge with an introduction to small business start-ups, marketing and public relations that lead to more integrated and substantiated studio research projects and prepare students for their careers beyond completing their degree.
Critical + Contextual Studies in Years Two + Three
The integrated programme of critical and contextual studies continues in years two and three. In year two students undertake a one semester course in Modern and Contemporary Art and Design Survey, that addresses contemporary theory and debates around the subject specialism of their choice. Year three students extend this learning in Issues in Contemporary Practice II and Entrepreneurship II which includes the opportunity for applying knowledge in a work placement. During these internships students gain valuable insight into working conditions and foster important networks for the future.
In addition, students select from a range of theory elective courses that are offered within a suite of year two and year three courses. The courses include a variety of topics that strategically deepen students' contextual, theoretical and practice-based inquiries. Students select from the following:
6105 Intellectual Property and Creative Industries
6120 Art + Design for a Sustainable World
6121 Contemporary Art: Asia + the Pacific Rim
6122 Relational Aesthetics
6123 Scripting the Body
6125 The Post-Postcolonial and Globalisation
6126 Gender + Identity + Contemporary Media
6128 Age of Enlightenment
6128 Making Art in a Globalised World
6129 Public Project
Year Three
By undertaking a negotiated studio research project in Year Three, students will creatively engage in a largely self-directed course of study to produce practical work, which is evaluated within a critical framework. Year Three students accumulate a contextual portfolio, which contains photographic documentation of their studio work as it has been developed throughout the year alongside an extended artist statement.
By the end of Year Three, students will present a professional, well developed body of work that represents an original area of inquiry. This supports their final graduating exhibition. These exhibitions are well attended by industry professionals and are an important opportunity to showcase student work.
The focus on the development of a body of work allows students to graduate with momentum, to have confidence and to be an effective leader in, and contributor to, their chosen discipline and the wider art community.
Postgraduate Study: BFA (Hons) NZQF level 8
Whitecliffe BFA graduates are industry-ready at the end of their three-year degree. Included in the suite of Whitecliffe post-graduate programmes, Whitecliffe offers an additional one year, stand-alone BFA Honours qualification, directly following on from the BFA degree, with places available by application only.
Its purpose is to consolidate the learning and achievements of the BFA through the realisation of a sustained practice-based, studio-centred, research inquiry and to further prepare students for professional life as creative practitioners or for ongoing postgraduate study. Attainment of this qualification allows for a five-year pathway to Masters degree completion for those students interested in further academic study.
What to expect from the BFA Degree
The four majors offered within the Bachelor of Fine Arts are Fine Arts, Photo Media, Fashion Design and Graphic Design.
Students have the opportunity to experience all areas of specialisation offered at Whitecliffe in Semester One before moving into their chosen specialist areas in Semester Two of Year One. This broad initiation into the range of disciplines in the first year increases appreciation of the arts and helps students make an informed choice of major.
Students are encouraged to exhibit to develop professional skills of planning, executing and presenting work within a critical environment. The programme's philosophy is to combine creative research skills with solid awareness of the public and professional requirements of visual arts professions. It's a liberating, exciting and challenging way to learn. The final year culminates in graduating exhibitions by students from Fine Arts, Photo Media, Fashion Design and Graphic Design.
Creativity requires a combination of imagination, focus and flexibility. Increasingly, fine arts graduates are receiving recognition as creative thinkers and innovative problem solvers who can successfully adapt to many industries and roles through utilising the transferable skills they accrue in their arts or design degree programme.
The Whitecliffe Bachelor of Fine Arts programmes are based on a uniquely student-centred approach that recognises and nurtures diverse needs and passions. Through these programmes students are exposed to a combination of new media and contemporary concepts while building up knowledge of traditional materials, skills and attitudes. Problem-solving skills and creative responses are emphasised and encouraged.
As well as further developing individual creative talents, students learn critical thinking, research, communication and presentation skills. Study is supported at every level by theoretical and professional practice courses.
Key Information for Students
Where could this programme take you?
A BFA in Fine Arts from Whitecliffe is a great step towards a professional career as an artist. Many of our graduates have gone on to achieve exactly that, here and abroad. But a fine arts training also prepares graduates for a wide range of careers, giving them essential skills for a modern jobs market: the abilities to think creatively and flexibly; to work independently or collaboratively; to respond constructively to criticism, and to participate in intelligent debate. Our emphasis on business skills – such as budgeting, marketing, career management and public relations – also prepares graduates for some of the more pragmatic aspects of life after study. The most important things we do for our students are preparing them for lifelong creative work, and helping them develop the attributes that will make them leaders within their communities. And as the creative industries continue to grow, we find that more and more of our graduates are carving out unique career paths.
Jobs related to this programme
Exhibiting Artist
Curatorial Assistant
Gallery Manager
Secondary School Teacher
Tertiary Teacher
Arts Administrator
Art Consultant
Set Design and Construction

Art Magazine Editor
Art Project Manager
Talk to our team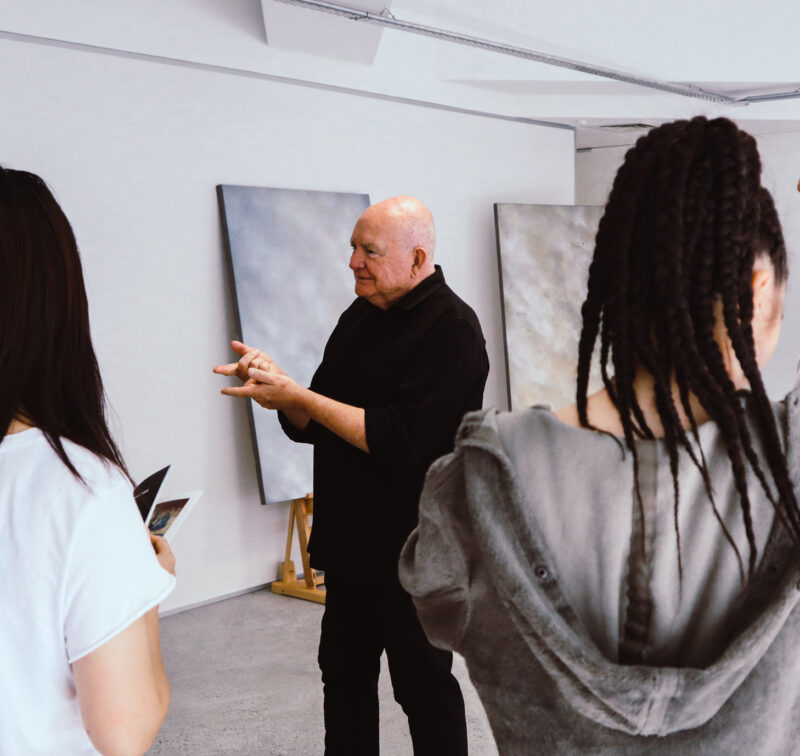 If you would like to ask us a question or request more information, please detail your enquiry using the form below. If you would like you can contact us directly on 0800 800 300, email us or use the contact us form.