Alumni Spotlight: From Graduating with a Certificate Programme to Painting Netflix Sets: Nick Barry's Journey as an Artist
A decade after graduating, School of Fine Arts alumni Nick Barry and his success, creativity and motivation as an artist reflects the immeasurable value in completing a Certificate programme offered at Whitecliffe.
Growing up as the youngest child in a house full of creatives, Nick was surrounded by a range of inspiring art and admirable skills. Fortunately, he was encouraged to freely explore his personal artistic voice and passions without the pressure to pursue any type of study or career that he did not feel enthusiastic about.
During high school, Nick thrived in art class and was unconditionally supported by his teacher who he cites as one of his biggest inspirations. "She was a really good art teacher and pushed me in the right direction," he reflects. "Deciding to study at Whitecliffe was definitely her influence." He enrolled in the Whitecliffe Certificate of Arts + Design programme just before he turned eighteen.
The varied Certificate of Arts + Design programme content meant that Nick would be able to explore a range of art mediums that would broaden his skillset as an artist instead of limiting him to one specialism. The prospect of this intrigued him, and ultimately paid off when Nick found value in topics he never initially expected to, he recalls being surprisingly invested in learning about art history and traditional and figurative drawing.
Whitecliffe appealed to Nick for multiple reasons. Nick describes himself as a structured artist (he values direction and briefs) and because Whitecliffe implements learning methods that align with his working style, this made it an effective environment for him to flourish. Being able to build his artist portfolio with input from established artists, and alongside other creatives, was important to Nick. "Getting your art portfolio together at high school or at home when you are 17 or 18 is quite intimidating, so having that guidance in an art school environment made it so much better," Nick explains.
Six months after completing the Certificate in Arts + Design programme, Nick spent some time in Bali before he was due to further his studies and undertake the Whitecliffe Bachelor of Fine Arts programme. However, eager to work when he returned to Aotearoa, he utilised some of his industry connections that he gained while at Whitecliffe. He secured an opportunity to work in the paint department as a brush-hand for film and television, and from there, he was able to continue progressing onto different set projects.
Nick's time in the film and television industry so far has consisted of various exciting and impressive projects. Nick has painted sets for Ash vs Evil Dead (season 2), the live-action adaptation for Mulan, The Power of the Dog (which recently secured an Oscar win after being nominated for 12), Sweet Tooth (season one), Cowboy Bebop, No Exit and MEG3N. The contracts are usually 3-6 months depending on the amount of work required, and Nick acknowledges that this is appealing for an artist because it provides some flexibility to pursue travel or other personal art projects in between contracts. For aspiring brush-hands, Nick recommends pursuing low-budget productions because the painters are generally required to cover an extensive range of art styles which is valuable for those who are trying to enter the industry, and gain a multitude of experience in a short amount of time and build their skillset.
In 2017, in between filmset contracts, Nick opened an exciting start-up gallery called Wabi Sabi in Whangamata alongside his friend. The gallery displayed and sold original artwork, t-shirts and wares. Inspiration for Wabi Sabi came from one of Nick's favourite artists and role models Dare Jennings, creator of the surf brand Mambo. Wabi Sabi thrived in the summer and received a lot of support both in-person and online. Its feel-good presence, which also consisted of live music and hearty food trucks, added another layer of liveliness to the busy beach town. Unfortunately, business in Whangamata is seasonal, and Wabi Sabi shut its doors after 8 months. Wabi Sabi accumulated over 1000 followers online, so it was still able to exist digitally even long after the physical gallery closed. Nick looks back at Wabi Sabi as one of the proudest moments of his creative life thus far, "I think creating my own gallery or space near the beach is something I will go back to, I loved it," he fondly reflects.
Looking back at his time spent studying, Nick's most memorable moments involve the community aspect of Whitecliffe, and the relationships that were formed. "Being a hermit artist is a romanticised idea," he says, "my most memorable moments were connecting with the other student artists, sharing ideas, and drinking too much coffee, I probably spent all my money on coffee while studying!." Nick also acknowledges the equal relationship between lecturers and students. He particularly appreciated that the lecturers carried themselves as relatable and easy-going mentors who genuinely want to see their students excel in the art industry. "Some of these lecturers become role models and people you aspire to be, but also friends too," Nick says.
Nick learnt countless lessons at Whitecliffe that have been applicable to life after studying. Most significantly, he learnt how to embrace criticism and see the value in it. He quickly realised while studying that criticism of artwork functions as a motivator to try a new way, to do better and be better, which is something that he retrospectively appreciates and doesn't take offence to. Adaptability is another hugely beneficial trait that Whitecliffe instilled in Nick. Being able to embrace change and move beyond sticking to only one art style has broadened his skills and opportunities majorly and is a vital part of succeeding in the fine arts industry, especially for an aspiring artist. Whitecliffe helped him to acknowledge that adapting to an art style for a specific project doesn't mean he is sacrificing his personal taste but is instead bringing a different vision to life and doing a job thoroughly. "Even if I don't necessarily resonate with the painting I'm doing for a set, it's important to remember that I'm bringing someone else's vision to life. It's a mutual relationship because we couldn't do it without each other. Being adaptable is so important," he says.
The professional and personal projects that Nick has devoted himself to thus far is inspiring, and he offers some advice to creatives who are eager to follow a similar career trajectory to him. "Work hard! Don't make excuses, and don't procrastinate. If you're not willing to sacrifice your sleep and get your hands dirty often, then pursue something else. I work hard, anyone can," he says. "Going to exhibitions and gaining gallery contacts is also valuable. When securing jobs, it's all about who you know, and of course, having the skills and creativity to back it up. Sometimes it takes a little bit of luck, but it will always take a lot of hard work."
Nick also offers some advice for prospective students. "Make sure you really want to study before you commit. There's really no rush. I remember having people in their fifties in my class and being so inspired by their attitude and willingness to learn and create."
When discussing the future, Nick says, "I don't care how much money I have in the bank, but at some point, I want to go back to school and finish my degree. That would be a top sign of success for me." Because he is more experienced now, he is eager to see how his fresh perspectives, interests and inspirations will manifest in an academic art space.
Nick believes that creating meaningful change can be achieved by using art as a language. He emphasises the importance of widening the reach of art and using talent to push ideas further. He holds the perspective that if his art touches a person who is not creative, then a true impact has been made and a language barrier has been broken.
Nick came to Whitecliffe wanting to learn how to exist as an artist. With so much achieved in what is still only the start of his career, he has certainly walked away not only knowing how to exist as an artist, but how to thrive as one.
Talk to our team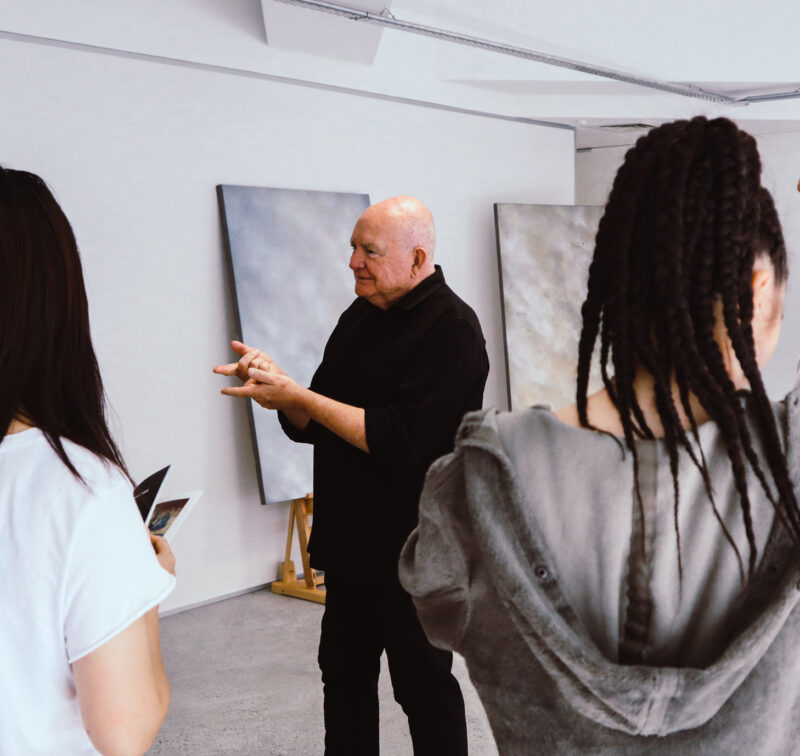 If you would like to ask us a question or request more information, please detail your enquiry using the form below. If you would like you can contact us directly on 0800 800 300, email us or use the contact us form.