Hot New Things 2020 – Katie Paterson
Each summer DA profiles a selection of the top design graduates coming out of our tertiary institutions. We welcome these talented emerging professionals to our industry, learn about their passions, final projects and dreams for the future.
This news piece was originally posted on Design Assembly and was written by Nicole Arnett Phillips
Was there someone (or something) that inspired you to pick design as a career path?
My father is a talented furniture maker, and I definitely inherited my creative talents from him. I have always been meticulous in everything that I touch, and it seemed like a natural progression to choose design.
You completed your full-time studies at the end of 2019. Can you tell us what your final year's project focussed on?
My final project, To Gather, is centered around gathering and community. I believe that these core aspects are essential in our lives, and that we are created for connection and relationship. The project consists of six different sections; Community, Potluck, Ebbs and Flows, Childlike Faith, Assortment and Compilation. They provide a heartfelt exploration into various views and takes on community, with some of the content being made up of interviews of people within my community. The sections provide beautiful metaphors of the journeys that we all go through in life, and that each phase of life holds so much value, particularly when we experience them together. I believe that we can learn so much from children, as they have little preconceived notions of the world, and therefore, in the Childlike Faith section, I asked a group of 4 year olds to create a collage with inspiration from their friends, family and home. The project is a nod to the power and beauty of having diverse people that make up a community.
What were some of your most exciting or unexpected discoveries to come out of your project?
I had recently purchased a beautiful candlestick holder made from Oamaru Sandstone, holding three beeswax candles. My boyfriend said that it looked like a 'slab of brie cheese with three carrots stuck into it'. His creative take on the candlestick holder brought to life the photographic series, 'Assortment', in which I shot random objects that are loosely associated with gathering in a balanced way, inspired by Peter Fischli and David Weiss.
What did you love doing most?
I have a passion for community and gathering, so I loved bringing these passions together with design. I loved reading through each paragraph from the 'Community' section, and was so touched by the time and effort that each person put into writing it. I am a lover of textures and the tactile nature of design, and thoroughly enjoyed choosing out the paper stocks to compliment the sections, and the linen bound folder that my dad lovingly crafted. I also loved dabbling in photography for this project, as it is a practice that I want to delve deeper into.
What was your biggest challenge while studying and how did you overcome it?
One of my biggest challenges was loading myself with the pressure of trying to come up with an idea that I was proud of. Over the years, I learned to give myself the time and space to think and become inspired. I would (and still tend to) feel like I have to achieve big things with each project, but coming to the understanding that some projects were there to teach you the technical skills in order to succeed in other areas was a massive learning curve.
How has your ability and confidence progressed since the beginning of your studies?
Learning how I tick and what makes my heart sing has been so formative for my growth in confidence, as it has allowed me to push my projects in directions that I flourish in.
How do you see your work and practice developing, and what are your main aspirations?
What I have loved discovering through this degree is how design is able to bring about change and awareness. As creatives, we can tend to sit on the periphery, which is actually a privilege as it means that we are able to see what's going on in the world and create work that gives people insight into this. I believe that when we have the posture of wanting to bring about change and good to the world, we are able to create some beautiful and powerful things. One of my main aspirations is to explore this further, and to create works that embody these principles. I would also love to develop my photography skills, and spend more time learning the technical side of photography.
Which piece in your portfolio are you most proud of and why?
That's a tough one! I'd say that one of the projects that I am most proud of is 'Instrument of Freedom'. We were given the brief of 'Rewriting a Woman into History'. I interviewed a woman on Skype that I had met two years earlier, who is a part of the incredible organisation Freeset, that are focused on creating positive employment opportunities for women affected by sex trafficking in West Bengal, India. Through this project, I was given the chance to honour her story through designing a typographic publication, and to shed light on her life which is filled with heartache and despair, but also filled with so much freedom and love. It was such a privilege to be able to share some of her story, and discovering that design and change are able to work together.
What does your dream job look like?
I would love to have a job that incorporates design, photography and styling together. My dream would be to have people at the heart and centre. It has been incredible to see how design and change can work together, and the goal is to have a job that embodies both of these.
Why did you choose to study at your design school, and what do you feel you can take away now that you've completed your course?
I chose to study at Whitecliffe because of the small and intimate classes – it meant that I was able to spend more one on one time with the lecturers. Although the course was longer than most, being four years, I loved this as I feel that this last year has been very formative in my design practice. I have been able to refine my style and put a lot of attention and focus on what I love, rather than having to try to finish a lot of deadlines at once.
Where to next for you? What does 2020 hold?
I am currently pursuing a couple of opportunities for next year, and am so excited to continue to develop my practice. I am waiting to hear back from a couple of studio's and alongside that I will be doing continuing freelance work.
Talk to our team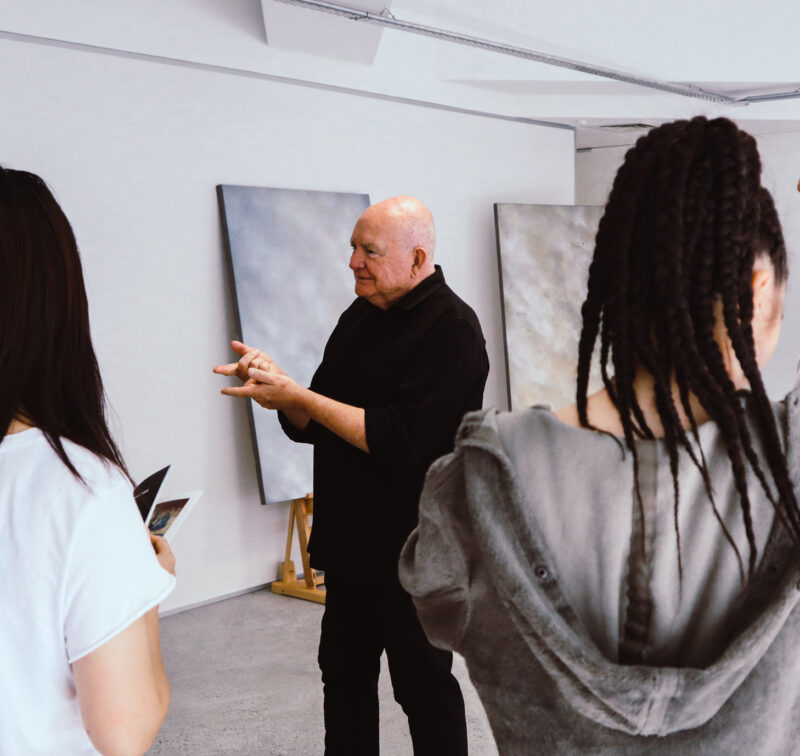 If you would like to ask us a question or request more information, please detail your enquiry using the form below. If you would like you can contact us directly on 0800 800 300, email us or use the contact us form.