Highlights: Wellington Diploma Showcase 2019
At the end of two intensive years of study, students on the Diploma Programme with Whitecliffe Fashion Tech, produce a Diploma Showcase for industry, family and friends.
The Diploma programme pulls together the skills and knowledge of the two Certificate programmes and takes it to another level. At the end of the 2-year programme, students have refine advanced technical skills in patternmaking, fit, garment construction and production to create lingerie, swimwear and tailored garments. The programme culminates in a runway presentation of student-designed garments, The Diploma Showcase. Check out the highlights from the 2019 Auckland show below.
Michael Barlow - Invasive Action

I have been inspired by the subtleties and techniques required to craft menswear for as long as I can remember. There was always something about the way that the focus on the finer details gripped me. My designs are an extension of what I have learned and worked towards during my three years at NZ Fashion Tech. Invasive Action is my take on what the peak of male confidence looks like in my mind, on today's public stage.
AWARD: Michael was the Wellington recipient of the 2019 Technical Excellence Award, presented on the night by Rosalind Black on behalf of Direct Sewing Machines & Supplies. Michael walked away with a garment steamer and engraved shears from Fabric Warehouse.


Thaylia Evans - June
A capsule collection design with real women in mind. June is an ode to European summers and sustainable, ethical living. With silhouettes inspired by Mediterranean coastal living, this is luxurious everyday wear. High quality, hand woven fabrics have been sourced and hand dyed with natual avocado dyes before being created into simple garments to allow ease of wear season after season.


Ateliana Amato - Meraki
Meraki (may-rah-kee) a Greek word which means "putting your complete soul, passion and the essence of yourself wholeheartedly into something you love", or in other words it is the essence of yourself and what you do. This collection is the essence of who I am. I want to use fashion as a tool to create modest clothing. I have designed three aesthetically chic, simple, modest looks for those who want to have a good time without compromising their values and standards.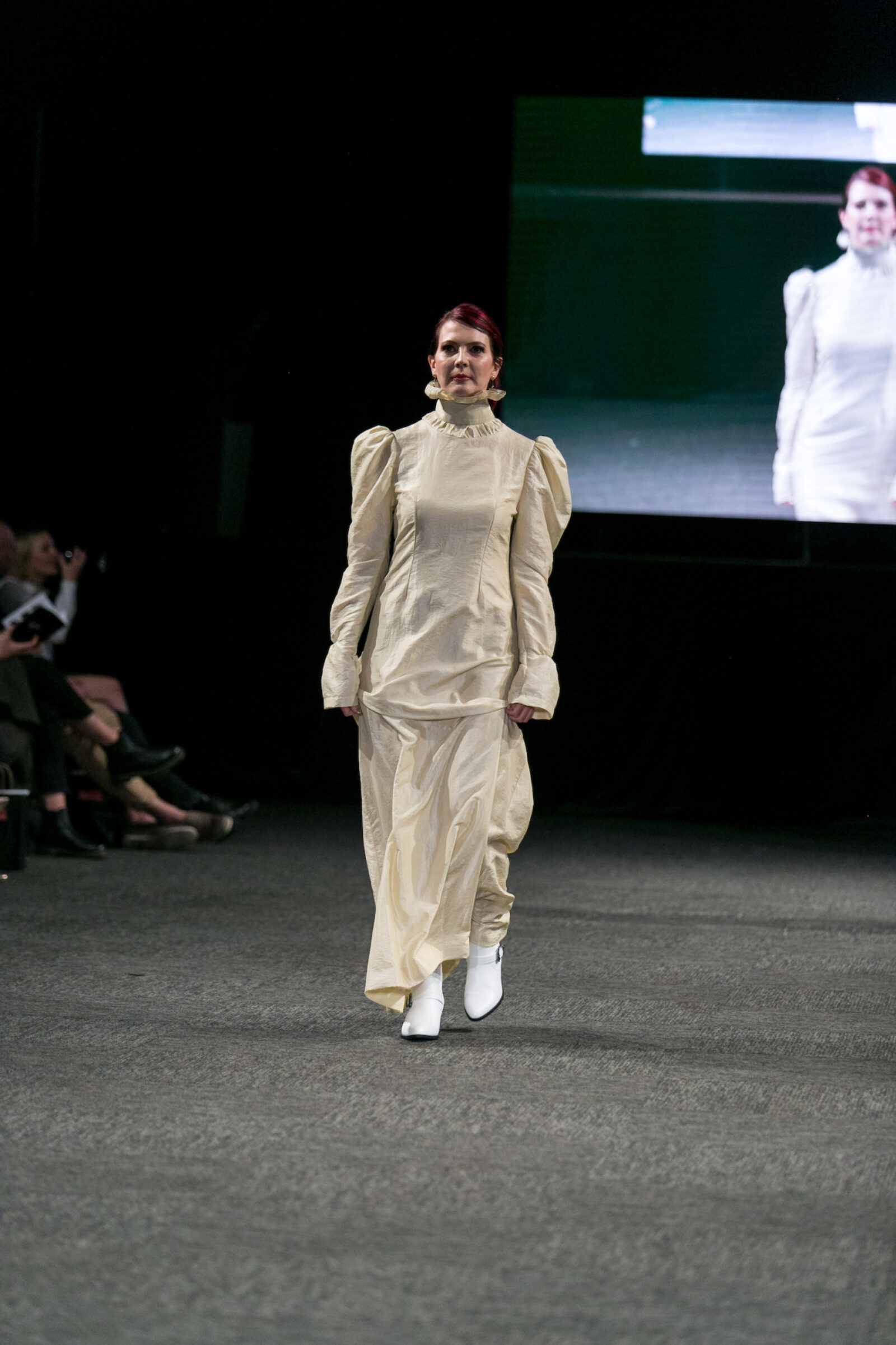 Natasha Ann Wellbelove - Spite and Malice
My collection was inspired by punk and streetwear influences. Through the culmination of different influences, I wanted to create a functional, comfortable, and stylish collection of simple silhouettes with a focus on details such as zips and pockets. This is complimented by a versatile set of fabrics that can be layered together for different seasons and occasions. I also wanted to incorporate my love of art and designed a digital print as the statement piece in my collection.


Khonjwase Dale - ALWAYS SLEEK
Always Sleek designs are inspired from my everyday walks with scenic views. It is based on nature, seasons, blossoms and times, desert sand waves and human creativity in sculpture. I like the combination of different colours, simple, smart yet elegant with different fabric textures to create something amazing. It encourages women to go bold and yet relaxed in everyday wear captured in an all-time feeling of freedom. I enjoy the challenge of using different textiles.
Shannon Owen - Inspire the Old You
My mini collection was created for the everyday woman. I was inspired by different structures and shapes in buildings to create the different panel lines in each garment. I see day to day businesswomen wearing white greys and blacks. For my collection I wantedc to get away from the monotone colours and go for light pastel colours that will stand out on the street. I have gone with simple structures that make the panels the main focus.


Mey Lao - YEM OAL BY MEY LAO
I want the mood of my collection to be classy but with a twist of street fashion to them. I designed outfits that are simple and clean but with different types of fabric choices that will make the garment more interesting and more stylist. I was inspired by unusual panelling and playing with proportions. I decided to use fabrics like pleather, organza and a shiny fabric.
Shagufta Zaira Bibi - 2am.
My collection is inspired by streetwear with a mix of punk edge and being able to feel confident in whatever you wear. A lot of my designs are made from denim which I consider a timeless fabric and incorporate in my everyday life. The use of chain detailing and white contrast stitching against the black denim adds a bold and eye-catching effect to the garments.
Michelle Israelson - A Sign of the Wine.
My inspiration is Spring when all the flowers are starting to bloom, and the air is getting crisp and cool in preparation for summer. Further inspiration came from my own photographs. I wanted my mini collection to be a little upmarket; something that you could wear out in the evening or to a special event.


Helen Diaz - MR17
My collection is based on 1 style of man and 2 of woman. I got inspired to do these types of designs from street paintings and different types of clothing that I like. I called my collection MR17 in honour of someone who means a lot to me - MR17 are his first initials and favourite number.


Chenise Hibbard-Nitz - Gaia
Ata is a concise collection of garments made for women living simply and beautifully. Imbued with values and strength. Inspired by the aesthetic looks of reflection such as the way shadows play on empty spaces. Using textures and silhouette that show the shape and movement of shadows. A pallet of muted tones making each garment seasonal, ready for every day, wherever you find yourself.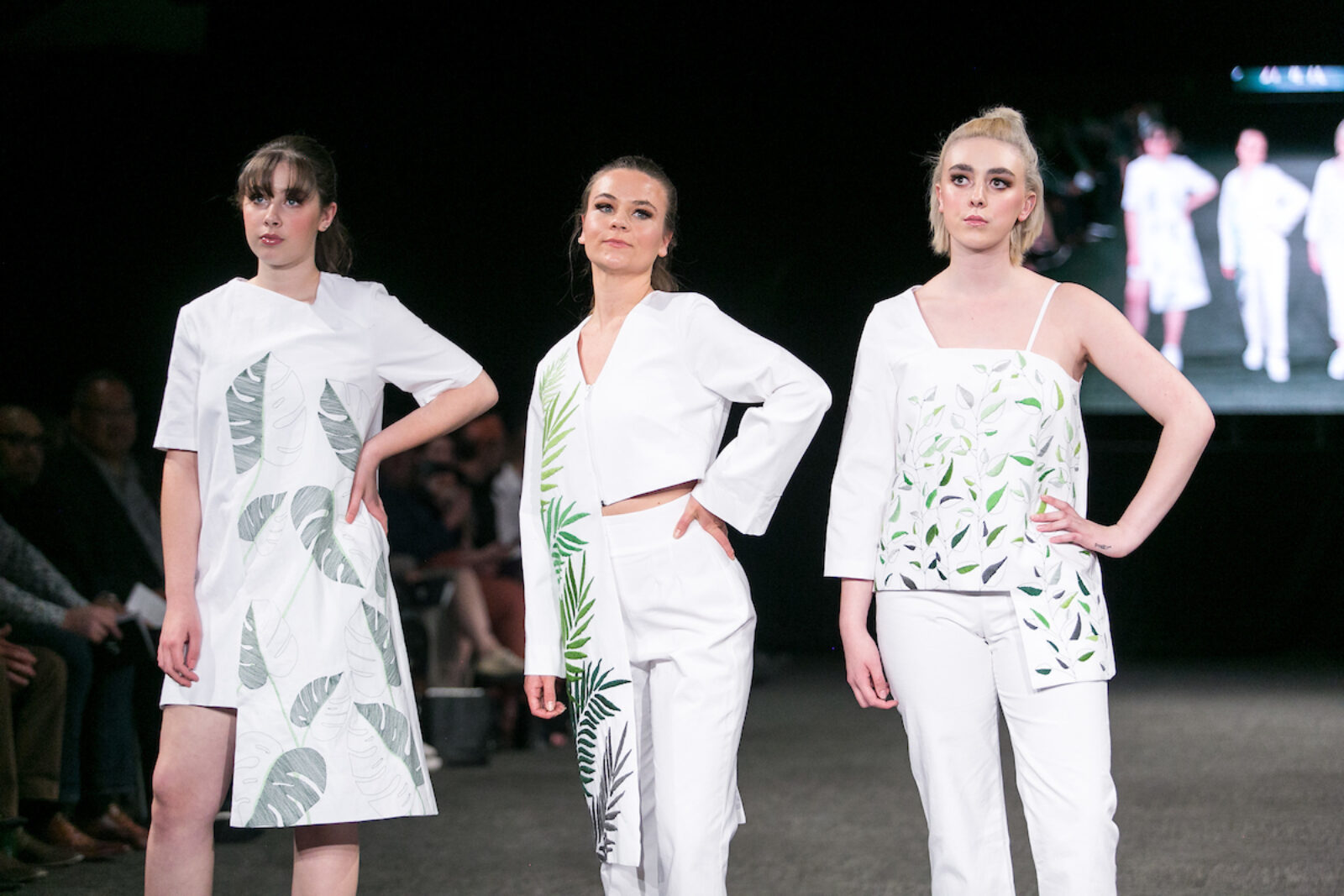 Braiden Reille - SUNSET SUGAR
My collection is inspired by the colours that the sky gives off after the sun has set and the mood they bring. I was inspired by my trips as a child to Petone beach; sitting, waiting for the sun to set and the memories of those visits. I wanted my collection to have a holiday resort feeling. The way I feel when thinking back on these memories is similar to how someone on holiday would feel; 'relaxed, peace and happy'.


Becca Malaki -Divine Pacific
I was inspired by how Pasifika clothing has changed from how it used to be, to how it is now. Today people want to keep the traditional prints but with up to date clothing styles. The idea behind my collection is to keep this cultural link alive for future generations to come.


Athina Bacaling - SONDER
The style of my collection is a fusion of ballet wear manipulated into romantic dreamy evening wear. The inspiration of my collection came from ballet which I used to learn back in my childhood. My designs are strongly influenced by the leotards that ballet dancers wear and that shows in my collection with a variety of different elegant style leotards paired with long gathered skirts to enhance the evening wear look.


Elle James - Heliophilia
Heliophilia is the desire to stay in the sun, the love of sunlight. This collection is made for the summer daydreamers, and winter hibernators, who are holding out for the summer. My designs carry the relaxed, fun mood of summer, giving the consumer the ability to take the sunshine with them anywhere. All Heliophilia pieces are made with eco-friendly, upcycled, repurposed or sustainably made fabrics. I take pride in knowing my designs aren't having a detrimental effect on the planet.


Izzy Spencer-Owen - IINE UP
I wanted to make each individual garment unique and creative. Inspirations included 90s streetwear especially "Jnco Jeans". My original artwork painted onto the panels shows a variety of characters representing the tug between the good, the bad and everything distorted inbetween. The use of metal gives an industrial rave look. I used fabrics sourced from oppshops making each outfit out of reused & sustainable materials, the bomber jacket out of an old 90s NZ duvet. My colour pallet is black, white, primary and denim to give a bold look.
AWARD: Izzy was the Wellington recipient of the 2019 All Round Excellence Award, presented on the night by The Fabric Store.


Angelika Olsen - The Fall

My graduate collection is inspired by religious iconography, in particular the fall of Eve - highlighting the repercussions of knowledge and temptation. From this came outfits that embraces the sensuality of women - with delicate fabrics in conservative cuts, harking back to my love of costume and period dress; this collection has silk, leather, pearls, and print. It can be mixed and matched and is a bold, flexible, and effortless statement.
AWARD: Angelika was the Wellington recipient of the 2019 Most Commercial Collection Award, presented on the night by Voda Model Management and Big Mark & Co.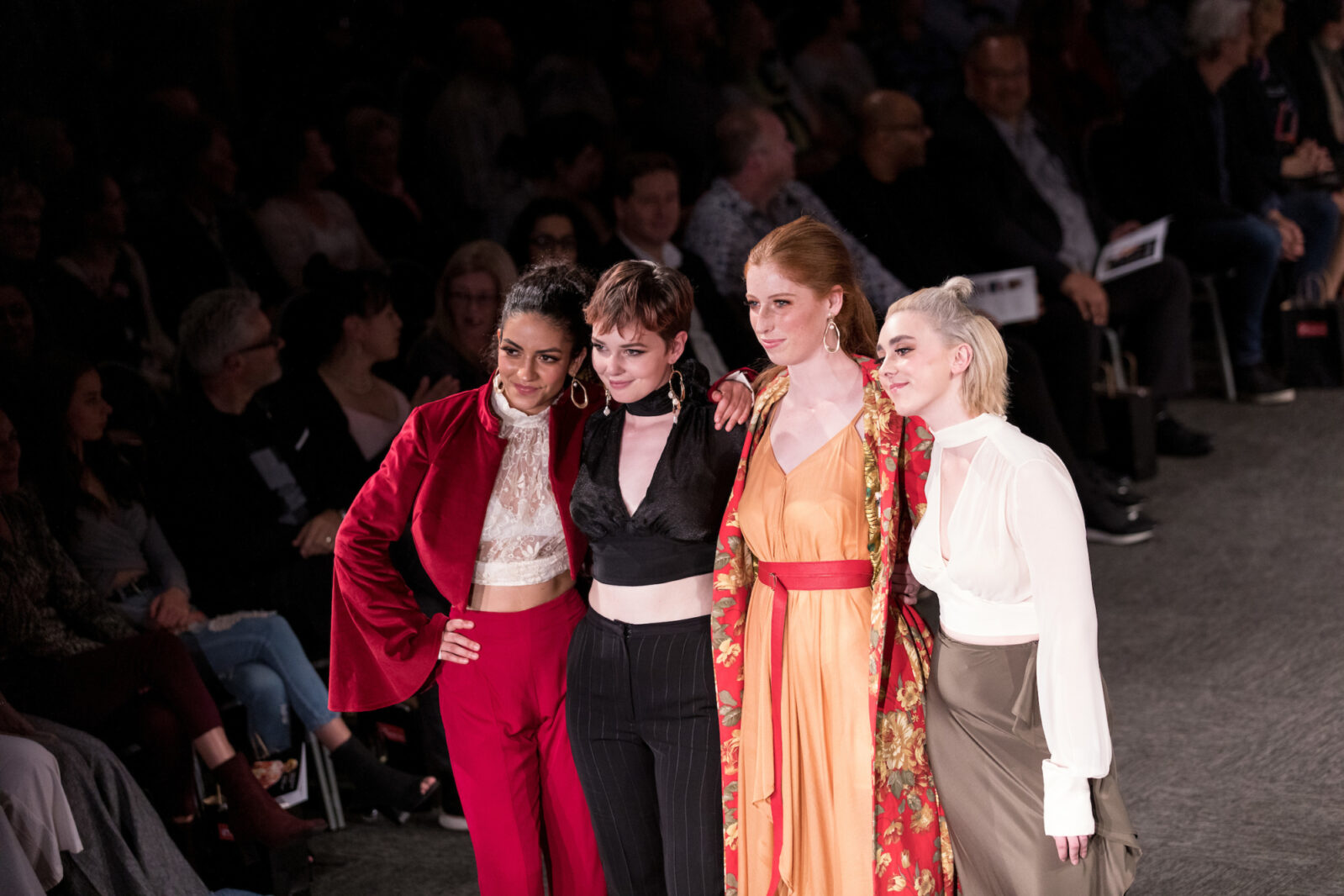 Talk to our team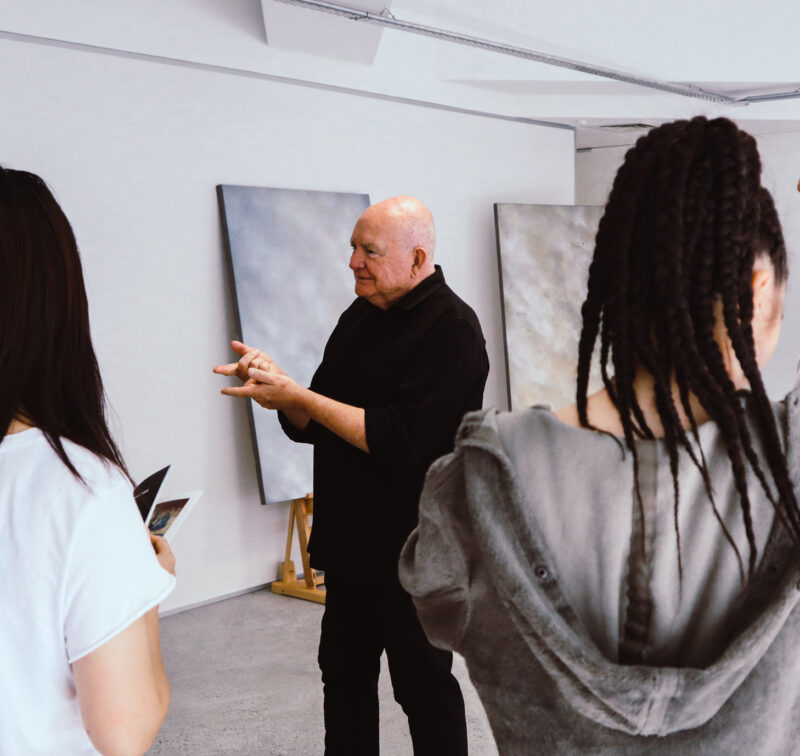 If you would like to ask us a question or request more information, please detail your enquiry using the form below. If you would like you can contact us directly on 0800 800 300, email us or use the contact us form.