Henry Calkin of Kapiti wins Resene Colour of Fashion 2022
Henry Calkin of Paraparaumu Beach has been announced winner of Resene Colour of Fashion 2022, an achievement which will be celebrated at the fashion graduate's end of year showcase tonight (28 November 2022.)
Designing a fashion look sprinkled with stars shining through the night sky, Henry Calkin of Kapiti wins Resene Colour of Fashion 2022
Henry Calkin of Paraparaumu Beach has been announced winner of Resene Colour of Fashion 2022, an achievement which will be celebrated at the fashion graduate's end of year showcase tonight (28 November 2022.)
Henry called his mum when he first learned he was the winner. He says she was so excited for him, "she went from speaking normally to full-on tears in one second."
Henry created a design in Resene Grape Escape. He recalls when he was handed his fabric earlier this year as the project began: "It's a stunning colour. It looked like the night sky when the stars are really shining through."
Henry's design was inspired by the Matariki star cluster. Matariki stars laser-cut from silk, macramé ties woven together like flax, and a cloak-like shawl were details Henry brought to his winning design, a nod to his childhood on the Kapiti Coast.
Henry says: "Te ao Māori influences were strong where I grew up in Raumati, and I wanted to capture that in my design."
Henry's family, friends, tutors, classmates and fashion industry leaders will be gathered for an intimate occasion for the Whitecliffe School of Fashion and Sustainability graduation showcase celebrating the work of the Wellington graduating class.
The former Kapiti College student, was one of 13 finalists – six from Wellington and seven from Auckland.
Henry knows that each year this project gives graduates a foot in the door of the industry they dream of.
Hoping to become a workroom assistant after graduation, as he embarks on his career in fashion, Henry says: "It's cool to be part of this project. Even as a first year, I watched this project. We've seen everyone's creativity over three years. It gets everyone united."
Resene Colour of Fashion is a fashion education project, celebrating its 9th year. It is part of the curriculum in the final year for students completing a three-year diploma in fashion technology.
On Judging Day, the 2020 intake of fashion students at Whitecliffe revealed that their talent for creating original, well-structured, sophisticated garments had been unaffected by three years of pandemic-disrupted learning.
Briefed to design and make a striking and beautiful fashion look that would resonate globally, this year's crop of graduating fashion professionals was also asked to find their inspiration close to home - in nature and in their own worlds.
Others brought design ideas as diverse as the spiral of a snail shell, the 'tingle' feeling of the forest, pōhutukawa flowers, plumage of a kereru, the sun, and a forgotten forest hut.
The colours of the silk they worked with have just been released by Resene for a summer of painting. Resene Very Berry, Resene Coconut Ice, Resene Kombucha and Resene Grape Escape were part of the colour palette which stimulated the students' appetite for boundary-pushing design.
Resene Colour of Fashion with Whitecliffe is a project that has seen hundreds of fashion students in their final year get a taste of the exciting, challenging and rewarding world of fashion.
Lights, cameras, models and a top-level judging panel are all part of the experience for these talented young people. The judges have selected a short-list of finalists, and from those looks they will select a winner. The winner receives a cash prize from Resene of $1000.
On Judging Day the students directed their own portfolio images from behind the camera, their work will feature in a Resene on-line gallery and they will show their designs at Whitecliffe's graduate runway shows in both Auckland and Wellington in December.
Karen Warman of Resene says: "Our warm congratulations to Henry. His design was a stand-out, responding well to the idea of bringing influences and experiences from his own life to the design.
"We love giving these young people a chance to explore their creativity with colour, and experience this aspect of the fashion industry before they embark on their careers. Resene is proud to support New Zealand's next generation of fashion talent and we look forward to the tenth year of Resene Colour of Fashion with Whitecliffe in 2023," she says.

Released by Whitecliffe School of Fashion + Sustainability in association with Resene
For information contact Sally Elton, Elton PR, Ph. 09 486 5256 / 0274 980 568; Email sallyelton@xtra.co.nz
Talk to our team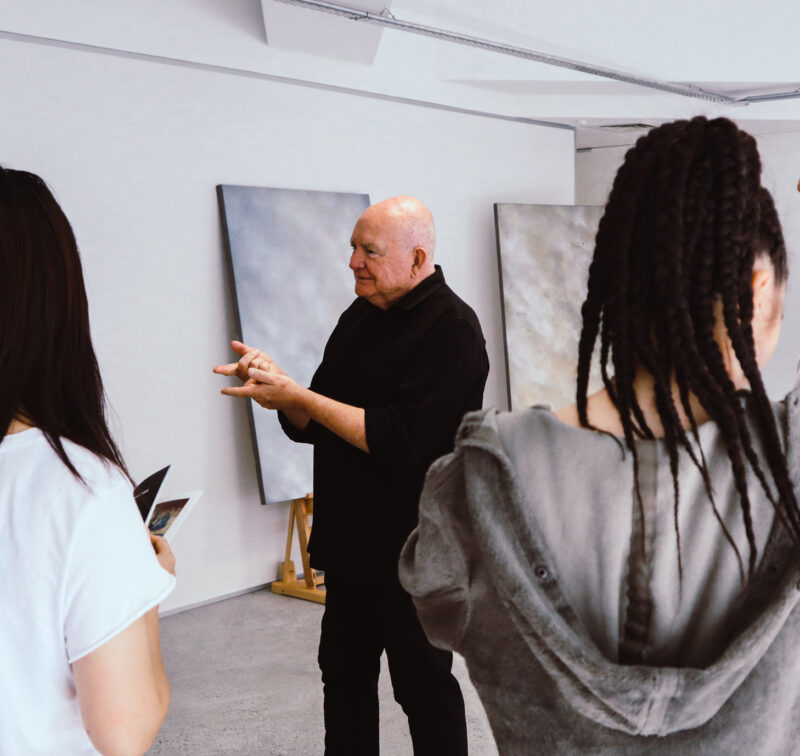 If you would like to ask us a question or request more information, please detail your enquiry using the form below. If you would like you can contact us directly on 0800 800 300, email us or use the contact us form.