Bachelor of Design + Digital Media*
Study the new Bachelor of Design + Digital Media in February 2022*
The aim of the Bachelor of Design and Digital Media is to provide graduates with future focused creative skills and discourses in the future of design.
*This programme is subject to NZQA approval
Duration
3 years, full-time in Auckland
Qualification
Bachelor's Degree (Level 7) 360 credits
Costs
2021 Domestic $9,051 + $300 Student Services Levy 2021 International $27,000 + $300 Student Services Levy Fees free applies All 2021 fees are subject to change and regulatory approval
View full fees
Bachelor of Design + Digital Media* Course Outline
The programme will promote experimental, innovative critical and reflective approaches to emerging ideas and design technologies, and encourage students to develop their own independent practices and positions to fulfil the needs of the industry. It will cover user experience, web and responsive design, data visualisation, graphic design, human centered design, design thinking, entrepreneurship, independent research and will be suitable for a broad range of user experiences in design related sectors with an intent to increase employability. Graduates will create innovative design solutions implementing the latest digital technologies, as well as their existing knowledge and experience to developed from their design theory and research capabilities.
This qualification provides a pathway for graduates and students wishing to engage in higher-level studies or progress their career in industry.
Graduate Profile Outcomes
Graduates of the Bachelor of Design and Digital Media* are connected, critical thinkers who behave sustainably, stay relevant, and are culturally capable and employable.
Graduates will lead the conversation on the future of design leadership and its impact.
Graduates will be able to:
Apply creative curiosity, design business awareness as well as emerging and future design technologies to positively impact local and global design-related industries.
Demonstrate understanding of the role of innovation, contemporary concepts and design technologies in an entrepreneurial business environment for commercial outcomes.
Create design outputs through the lens of cultural perspectives, including Aotearoa New Zealand.
Demonstrate critical thinking in the process of innovative design and awareness of the impact design innovation may have on human activity.
Apply analytical engagement, contextualised information, and innovative storytelling skills to demonstrate professional communication skills relevant to creative industry stakeholders.
Apply digital technology and human centred approaches to the business of design to identify global creative conventions contributing to interconnected design disciplines.
Demonstrate responsible awareness for local and global sustainable, environmental longevity of the design lifecycle.
Key Information for Students
Admission Requirements
Domestic Student Entry Requirements:
Completed application form
University Entrance: NCEA Level 3 or above and 20 credits at NCEA Level 2 or above, including: NCEA Level 3; 14 credits each in three approved subjects and UE Literacy (NCEA Level 2 or above; 10 credits with 5 credits each in reading and writing) and UE Numeracy (NCEA Level 1 or above; 10 credits

OR
A relevant qualification at Level 3 on the NZQF or above and the equivalent of UE Literacy and Numveracy
OR
OR
OR
A New Zealand or overseas qualification assessed to be equivalent to the above by the Head of School
OR
Passes in other certificate/diploma qualifications or courses as considered appropriate by the Head of School
Applicants who do not meet the above criteria may be eligible for admission with approval from the Head of School*
*Under delegation, the HoS will consider qualifications, programmes, and courses, domestic and international by analysing:


the course learning outcomes, assessment and content
the provider accreditation status
the applicants grade report or transcript


If deemed necessary, to ascertain suitability and capability the HoS will conduct an interview to gauge the applicants commitment to pursue study and potential for a successful outcome.
International Student Entry Requirements:
Completed application form
Passport copy
Minimum age: International students must be at least 18 years of age during their first semester of study.
IELTS Academic overall score of 6.0 with no band less than 5.5 or equivalent
Academic Transcripts: School or previous tertiary results
Full-time study: International students enrolled into a degree or higher-level programme, including low residence and/or online or blended learning delivery, will be required to enrol into 60 credits per semester and meet the attendance requirements of the programme.
BYOD (Bring Your Own Device) Requirements:
Apple Mac OS 10.6 (Leopard) or higher, preferable 10.x Yosemite or higher or Apple MacBook Air with M1 Chip (Base Model)
Apple MacBook Pro (preferred) and: dedicated GPU (graphics card)
May use Apple iPad Pro for drawing
An internet and data plan
No: Chromebooks, Windows X, or Windows S OS, Tablets (except Windows Surface Pro)

Faculty
Eric Thompson
Head of School - Design Innovation
Eric has been a practicing designer for over 30 years. He holds a Master of Design from Massey University and has worked in tertiary education for 14 years in various roles.
Continue reading
Sheahan Huri
Lecturer
Sheahan Huri is a graphic designer based in Auckland, New Zealand with nearly a decade of experience.
Continue reading
Rebecca Steedman
Lecturer
Rebecca holds a Master of Fine Arts from Elam School of Fine Art, University of Auckland and a Graduate Diploma in Computer Publishing and Design.
Continue reading
Where could this programme take you?
Graduates of the Bachelor of Design and Digital Media* are connected, critical thinkers who behave sustainably, stay relevant, and are culturally capable and employable. Graduates will lead the conversation on the future of design leadership and its impact.
Jobs related to this programme
Creative Director
Digital Designer
Graphic Designer (Digital Agency)
UI/UX Designer
Interactive Media Designer
Multimedia Designer
Web/App Designer
Experience Designer
Social Media Designer
Front-end Designer
Information Architect
Freelancer
Find out more about career opportunities
Talk to our team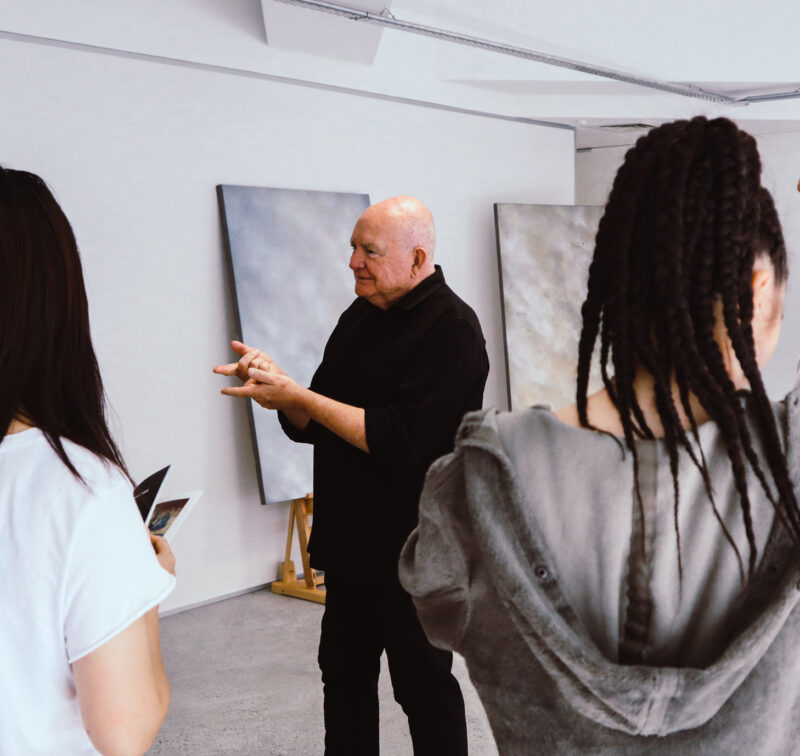 If you would like to ask us a question or request more information, please detail your enquiry using the form below. If you would like you can contact us directly on 0800 800 300, email us or use the contact us form.