Bachelor of Design + Digital Media
The aim for the Bachelor of Design + Digital Media is to provide graduates with future-focused creative skills within the field of design.
The degree promotes industry-relevant, experimental, innovative, critical, and reflective approaches to emerging design ideas and technologies. It encourages students to develop their own independent practices and positions and to fulfil the needs of the industry.
The programme provides a framework within which innovative learning and teaching approaches, advanced digital skills, and future-focused design. Assessment for learning elevates the student experience from technical to work ready graduates who will positively impact local and global design-related industries.
Duration
3 years, full-time in Auckland
Qualification
Bachelor's Degree (Level 7) 360 credits
Costs
Domestic $7,100 + $300 Student Services Levy International $27,000 + $300 Student Services Levy Fees free applies All 2022 fees are subject to change and regulatory approval
View full fees
Bachelor of Design + Digital Media Course Outline
The degree is anchored within the three pillars of design innovation to ensure graduates are equipped to enter employment, or entrepreneurial ventures, with a sound foundation in critically, creatively, and connectedness.
For any design solution to be both innovative and impactful for its intended audience, it must be Desirable, Feasible, and Viable. First, design solutions must meet the neds of the stakeholder, client, or customer, to be desirable. Secondly, the design must be assessed objectively for its branding, customer service, technological, financial, and collaborative capabilities to be feasible. Finally, the design solution must be viable and fit the client's business model. Of equal importance, the design solution should be sustainable and add value commercially, socio-economically, and culturally.
The three pillars of design innovation are mirrored in the courses over the three years of study.
Bachelor of Design + Digital Media Year One
Students are encouraged to explore Design Fundamentals examining typography, grids, layout, hierarchy of visual needs, print, and digital processes. Coupled with this is Design Context where students will research, analyse, and reflect on major historical eras of influence including historical socio-political movements. There is an introduction to Design Thinking as a strategic methodology and problem solving process.
Keeping in mind the ever-changing landscape of design in the digital age, students will learn in Coding Fundamentals the elements and what it means to write code and concepts, techniques, and strategies to produce media design artefacts. They will also look at Digital Technologies being able to develop knowledge, methods, and skills related to the processes of digital imaging, photography, and video production, as well as learn the fundamental knowledge and technical skills related to Motion Design production and distribution.
Also in Year One, students will be introduced to theories and principles of Interactive Design with a focus on user experience design. In Studio I students will gain design experience through research and creative exploration within a specific problem.
Bachelor of Design + Digital Media Year Two
Building on the knowledge learned in Year One, students continue with Design Context II where they explore and learn the theory and practice that sits behind brand development, creation, values, techniques, positioning, context, influence, and cultural significance. Design Thinking II will enable students to broaden their strategic perspective and find novel and interesting opportunities for innovation.
In Motion Design II students will further develop their knowledge and skills and take a step further into the world of 3D animation while Interaction Design II has students developing simple interactive pieces and progressively produce more complex assets using multiple assets using multiple design concepts and principles.
During Emerging and Future Design Technologies, students will learn to embrace everything from Artificial Intelligence, Machine Learning to Hybrid Reality (AR/VR/MR) and the Internet of Things, using them as tools to improve design outcomes.
Studio II exposes students to the wider influence of design through the creative process to generate positive, meaningful, and lasting change, improve lives, and making our world a better place. It will enable them to become social change agents in the social, cultural, and community space through holistic approaches to design solutions.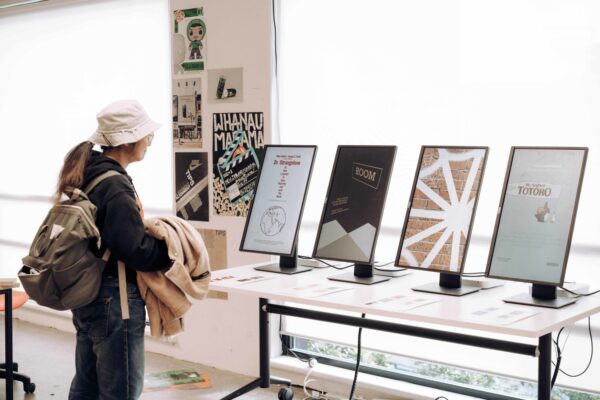 Bachelor of Design + Digital Media Year Three
In response to industry feedback, students will also embrace Entrepreneurship I during which they will explore developing their own business by taking a creative idea and making it viable, relatable, and sustainable. An important part of this course is guidance to develop their own personal brand and reflect on where they think they will fit best and develop a portfolio that will focus on their insight into specific strengths and weaknesses, their self-promotional and communication skills, and awareness of how they could fit into the industry as professionals. With Entrepreneurship II students will design in the context of what is achievable business-wise and where design intersects with the business world and how it adds value and changes the world by solving big and wicked problems. This course will delve into enterprise-level technology and explore the ways in which businesses use disruptive technologies to support growth. Through a series of case studies and research, students will investigate what it means to provide entrepreneurial and innovative solutions, additional as to what is required to create a successful start-up.
This is the year where everything is pulled together to create a design that is the first research in Studio IIIA where they will document a proof of concept and the resulting research that will explore the viability, feasibility, and desirability of the project. Students will gain practical experience in the adoption of new concepts, processes, and techniques through the completion of a research project proposal and prototype. The proposal requires students to visualise and explain their development processes, personal design approaches, and ongoing implementation plan, which will inform how they will innovate in Studio IIIB, where the rubber hits the road.
The overarching goal of the Bachelor of Design + Digital Media is to ensure students are work-ready and employable within their chosen field.
Life After a Bachelor of Design + Digital Media
Graduates of the Bachelor of Design and Digital Media are connected, critical thinkers who behave sustainably, stay relevant, and are culturally capable and employable.
Graduates will lead the conversation on the future of design leadership and its impact.
Graduates will be able to:
Apply creative curiosity, design business awareness as well as emerging and future design technologies to positively impact local and global design-related industries.
Demonstrate understanding of the role of innovation, contemporary concepts and design technologies in an entrepreneurial business environment for commercial outcomes.
Create design outputs through the lens of cultural perspectives, including Aotearoa New Zealand.
Demonstrate critical thinking in the process of innovative design and awareness of the impact design innovation may have on human activity.
Apply analytical engagement, contextualised information, and innovative storytelling skills to demonstrate professional communication skills relevant to creative industry stakeholders.
Apply digital technology and human centred approaches to the business of design to identify global creative conventions contributing to interconnected design disciplines.
Demonstrate responsible awareness for local and global sustainable, environmental longevity of the design lifecycle.
Key Information for Students
Admission Requirements
Domestic Student Entry Requirements:
Completed application form
University Entrance: NCEA Level 3 or above and 20 credits at NCEA Level 2 or above, including: NCEA Level 3; 14 credits each in three approved subjects and UE Literacy (NCEA Level 2 or above; 10 credits with 5 credits each in reading and writing) and UE Numeracy (NCEA Level 1 or above; 10 credits
OR
A relevant qualification at Level 3 on the NZQF or above and the equivalent of UE Literacy and Numveracy
OR
A New Zealand or overseas qualification assessed to be equivalent to the above by the Head of School
OR
Passes in other certificate/diploma qualifications or courses as considered appropriate by the Head of School
Applicants who do not meet the above criteria may be eligible for admission with approval from the Head of School*
*Under delegation, the HoS will consider qualifications, programmes, and courses, domestic and international by analysing:


the course learning outcomes, assessment and content
the provider accreditation status
the applicants grade report or transcript


If deemed necessary, to ascertain suitability and capability the HoS will conduct an interview to gauge the applicants commitment to pursue study and potential for a successful outcome.


International Student Entry Requirements:
Completed application form
Passport copy
Minimum age: International students must be at least 18 years of age during their first semester of study.
IELTS Academic overall score of 6.0 with no band less than 5.5 or equivalent
Academic Transcripts: School or previous tertiary results
Full-time study: International students enrolled into a degree or higher-level programme, including low residence and/or online or blended learning delivery, will be required to enrol into 60 credits per semester and meet the attendance requirements of the programme.


BYOD (Bring Your Own Device) Requirements:
This programme has Bring Your Own Device (BYOD) requirements, the following specifications will support you to be successful in your studies.
Required IT Specifications:
Apple Mac OS 10.6 (Leopard) or higher, preferably 10.x Yosemite or higher 
OR 
Apple MacBook Air with M1 Chip (base model) 
Macbook Pro (preferred)
AND dedicated GPU (Graphics card).
Minimum Hardware requirements 
Mac - Intel processor with 64-bit support; 2 GHz or faster processor with SSE 4.2 or later
OR 
MacBook Air with M1 Chip 
OR 
Intel® or AMD processor with 64-bit support; 2 GHz or faster processor with SSE 4.2 or later 
16 GB RAM    
500 GB SSD or higher hard drive with 10GB free space minimum    
Wireless capability 802.11n dual-band    
Up-to-date antivirus software    
AND Recommend
A Wacom Intuos - small (USB drawing tablet needed for projects)
May use Apple iPad Pro and pencil.
Minimum Operating System     
Windows 10 (64-bit) version 1809 or later; LTSC versions are not supported
OR     
Apple macOS Mojave (version 10.14) or later 
Internet and data plan.    
Not Supported:    
Chromebooks    
Windows X or Windows S OS    
Tablets (except Windows Surface Pro or iPad Pro)   

Where could this programme take you?
Graduates of the Bachelor of Design and Digital Media are connected, critical thinkers who behave sustainably, stay relevant, and are culturally capable and employable. Graduates will lead the conversation on the future of design leadership and its impact.
Jobs related to this programme
Creative Director
Digital Designer
Graphic Designer (Digital Agency)
UI/UX Designer
Interactive Media Designer
Multimedia Designer
Web/App Designer
Experience Designer
Social Media Designer
Front-end Designer
Information Architect
Freelancer
Find out more about career opportunities
Talk to our team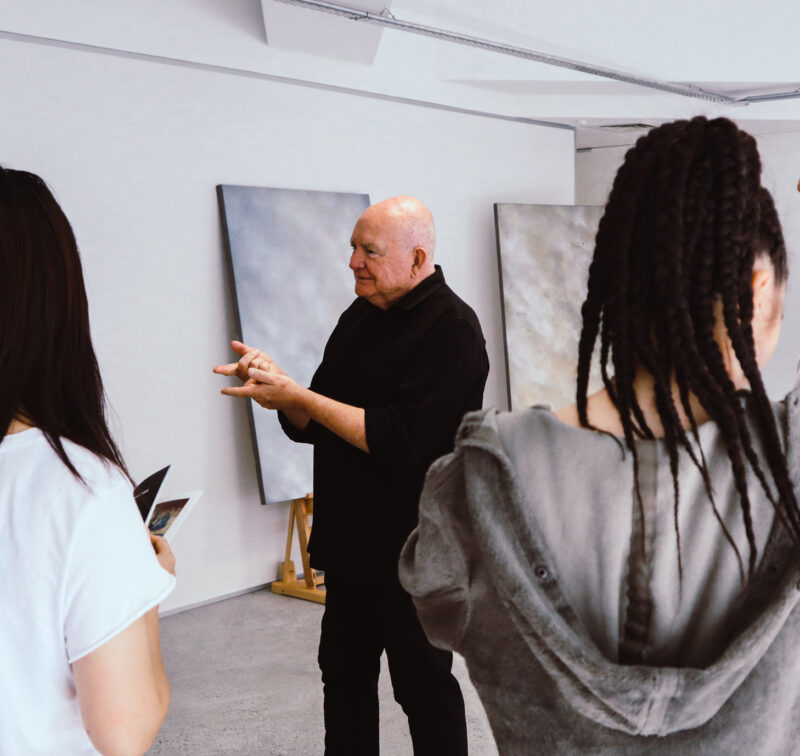 If you would like to ask us a question or request more information, please detail your enquiry using the form below. If you would like you can contact us directly on 0800 800 300, email us or use the contact us form.