Creative Arts Sessions Boost Well-being for Refugees
A group of Whitecliffe Creative Arts Therapies students are injecting joy into the lives of Auckland's newest refugee communities, delivering creative well-being sessions at Te Āhuru Mōwai o Aotearoa – Māngere Refugee Resettlement Centre.
A group of Whitecliffe Creative Arts Therapies students are injecting joy into the lives of Auckland's newest refugee communities, delivering creative well-being sessions at Te Āhuru Mōwai o Aotearoa – Māngere Refugee Resettlement Centre.
Since Whitecliffe teamed up with RASNZ (Refugees as Survivors New Zealand) last year, hundreds of newly-arrived refugees have benefitted from the sessions, which encompass everything from women and children-only dance nights to doll making, harakeke weaving – and even hopscotch. In fact, they're proving to be such a hit that some evenings as many as 70 refugees attend, hailing from a diverse range of countries including Syria, Afghanistan, Colombia, Sudan, Congo, Yemen, Myanmar, Iran, Iraq, Sri Lanka, Pakistan and Somalia.
Those who participate are among the many refugees living at the resettlement centre as they prepare to transition into their new lives in Auckland. The creative arts therapy sessions aim to boost well-being, strengthen community and create a sense of belonging, alongside busy days of English lessons, health checks and housing support.

Amelia Yiakmis and Cat Hugo are two of the final year Whitecliffe Master of Arts in Creative Arts Therapy students involved in the programme, and they say the experience is proving lifechanging.
"Often, we feel as though we're learning just as much as we ever hope to offer the residents, and we come away with full hearts every time," says Amelia. "The Māori principal of ako, both teaching and learning, is strong within our master's programme and we see it at the refugee centre in real and tangible ways."
Refugees spend their first five weeks in New Zealand at Te Āhuru Mōwai o Aotearoa, often following months – or even years – at refugee camps around the world.
"Their time at the centre is hugely important in terms of setting them up for a successful transition into life in Aotearoa. It's extremely busy though so, in the little free time they do have, RASNZ wanted to give them the opportunity to have fun, relax, interact and engage in self-expression. Through these sessions we aim to provide a safe space where they may begin to restore their capacity to play, express themselves in creative and new or forgotten ways, and have a laugh or two."
Being playful is a natural way of being for most children, but for adults – particularly those who've experienced complex trauma – it can feel foreign and unsafe.
"Former refugees often arrive at the centre dysregulated – experiencing strong and unpredictable emotions and/or feeling emotionally numb - and with trauma sitting within their bodies," Amelia explains. "Using various creative therapeutic processes, we offer many experiences that may encourage self- and co-regulation – the ability for individuals to soothe themselves both alone and through companionship with others. Creating alongside others in a safe space can begin to facilitate co-regulation and allow playfulness to return. Making art, especially in a communal space, is inherently therapeutic."
There's no denying the sessions are having an impact, as RASNZ Cross Cultural Facilitator Eliana Vanegas explains.
"When the art therapists come to the Te Ahuru Mōwai o Aotearoa/Māngere Refugee Resettlement Centre, this place is full of magic," says Eliana. "The art therapy sessions positively impact the resettlement process of the families onsite, promoting social connection, and providing participants with cultural and creative outlets."

It's powerful, poignant, and extremely rewarding work, and Cat and Amelia both agree their time at the centre, especially sharing kai with residents and staff before their workshops start, is a real highlight.
Says Cat, "It's an incredible privilege to be welcomed into that space and into the lives of people who have been through so much and yet are so willing to jump up and joyously engage with strangers in creative play! The interaction we experience, the incredible smiles and trust instilled in us is honestly a gift.
"From tears to hugs to gifted artwork, requests for photographs together and endless dancing with the children – we've been shown in a myriad of non-verbal ways that what we offer has been meaningful and touched the participants in some way."
Providing opportunities to gain real-world experience is a cornerstone of a Whitecliffe education, and by partnering with RASNZ these Creative Arts Therapies students have been given a unique window into a world not seen by many of us. It has enabled them to hone their craft while benefiting others and has provided a springboard to create meaningful change.
Adds Cat, "This opportunity has shown us how the creative arts can positively impact so many different people, and Amelia and I both hope to continue volunteering at the centre even after completing our placement hours and graduating from Whitecliffe.
"We are firm believers in the transformative power of the arts in promoting positive change for marginalised communities, and we feel pretty fortunate to be able to play a part in that."
Talk to our team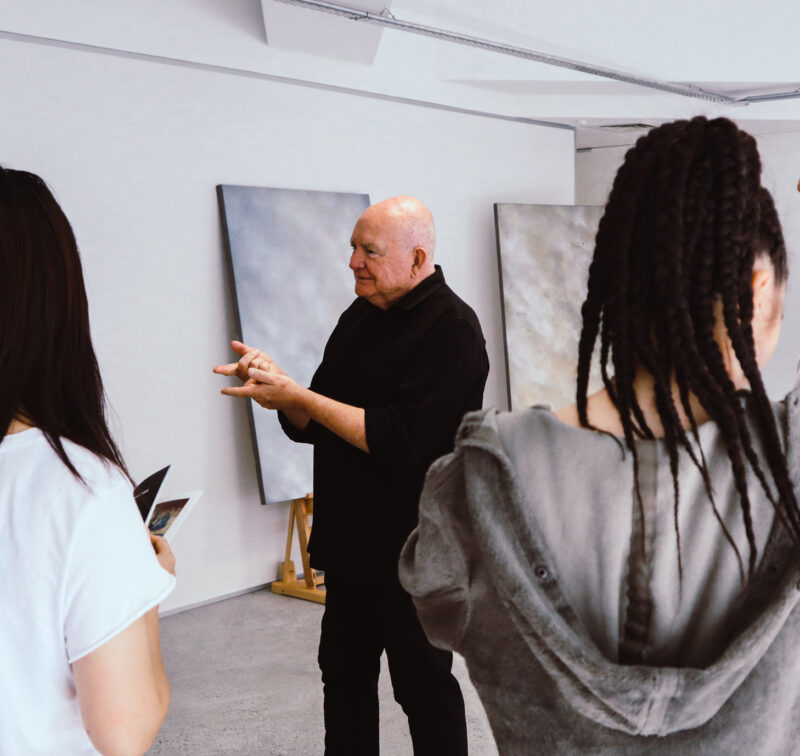 If you would like to ask us a question or request more information, please detail your enquiry using the form below. If you would like you can contact us directly on 0800 800 300, email us or use the contact us form.