Staff Spotlight: Rose Meyer
We sat down with School of Fine Arts Lecturer Rose Meyer, and chatted about Whitecliffe's Certificate in Arts + Design programme, as well as her study in Arts Therapy.
To watch the interview click here.
Tell us a little about yourself
My name is Rose Meyer, I teach on the Level 4 Certificate in Arts + Design programme mostly, and a little bit into the BFA Year One. I teach drawing and mixed media, I'm involved in the workshops, and I do some of the administration for the programme as well. I actually was also a student at Whitecliffe, I did my BFA here a long time ago, and went on to do my Master's of Fine Arts here, as well as my Postgraduate Diploma in Arts Management, and also a Postgraduate Diploma in Arts Therapy, so I'm a long time Whitecliffe collaborator.
Can you tell us a bit about Arts Therapy at Whitecliffe?
Arts Therapy was amazing! I actually only did the one year Postgraduate Diploma in Arts Therapy. I found it really useful personally, especially because I did it in 2020 which was Covid-19 year, so it gave me fantastic tools to deal with the situation and my own stress levels. What really helped me, and why I studied it was it gave me the tools to really relate to my own students - a lot of our students are really young, and some of them are a bit disadvantaged or struggling to cope as it was their first time ever in study, so it really helped with the tools I needed to really bridge the gap in a supportive way.
What is Arts Therapy?
Arts Therapy is using the creative making of things to help with mental emotions. Because you can't practice with other people in the first year, you go through different therapies, and different art making therapies and you apply that to yourself rather than practicing on some unknown person. It can be from drawing to painting, to dance, to playing a game, to role playing, and it's about using the entire creative therapies and not just visual art. It's about using that making process and the creative mode to either soothe or help work through issues. It's absolutely amazing and very useful.

What kind of students would suit Whitecliffe's Certificate in Arts + Design programme?
Certificate programmes are really good for students who aren't quite sure if the creative arts are for them. It's a really good place to dip your toes into the water and see if full-time study in the arts is for you, and also just a way to gain skills to apply into what you're already making.
What kind of subjects are taught in the Certificate in Arts + Design programme?
The Certificate in Arts + Design has elements of painting and drawing, mixed media, collage, multimedia, photography, we have some design classes as well which teaches you some of the Adobe Creative Suite skills as well. It's a really general course, which means you will pick up quite a few different skills that you may take forward into fine arts or design, so it's a really nice introductory course.
What can students do with the skills they get from the Certificate in Arts + Design programme?
A lot of students use this programme as a stepping stone for further study into our BFA programme - if students don't meet the requirements to go straight into BFA year one, a lot of students will do this Certificate programme to meet those requirements and go into the BFA programme. Some of our students also study this programme to refine their skills - particularly people who have been out of education for a while and love their arts but don't know how to start their journey into the arts.
What does Create Meaningful Change mean to you?
For me as an Arts lecturer, I think Create Meaningful Change comes down to the change that you can make with each individual student. So it's less of a "large world" picture for me, and more about that change that you see in each student that completes the programme. You watch their confidence build, their skills build, and then you watch them apply that to the world, and you see them down the line in year one or two of the BFA programme, and they're making the most incredible artwork. For me, this is my meaningful change - the development of the students, as they go through their journeys.
Rose teaches within the School of Fine Arts. To find out more about our Fine Arts programmes, click here.

To watch the interview click here.
Talk to our team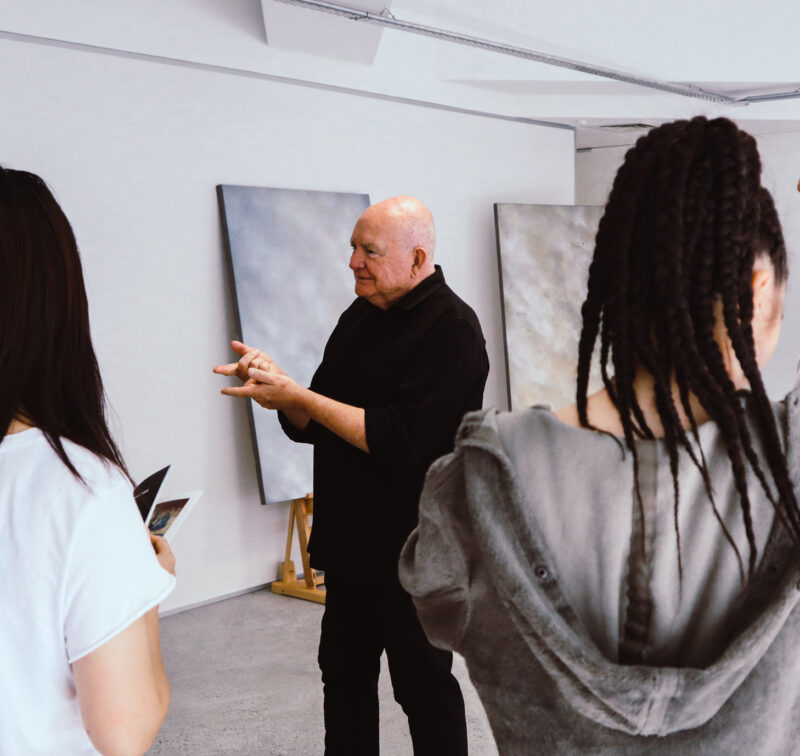 If you would like to ask us a question or request more information, please detail your enquiry using the form below. If you would like you can contact us directly on 0800 800 300, email us or use the contact us form.