Bachelor of Fine Arts - Fashion + Sustainability
Fashion Design is an influential and creative medium offering a dynamic means of personal expression and design activism to create a sustainable and ethical future.
Fashion is fast to react to global socio-economic and cultural events and represents contemporary concerns of the designer and wearer, as well as providing a dialogue between the past and present.

Duration
3 Years, full-time. Auckland
Qualification
Bachelor's Degree (Level 7) 360 credits
Costs
2021 Domestic $9,051 + $300 Student Services Levy 2021 International $27,000 + $300 Student Services Levy Fees free applies All 2021 fees are subject to change and regulatory approval
View full fees
Bachelor of Fine Arts - Fashion + Sustainability Course Outline
The Whitecliffe Fashion + Sustainability pathway focuses on sustainable and ethical practices and encourages students to challenge the traditional boundaries of fashion, elevating the craft of making and fostering creativity to develop high levels of experimentation and technical skills and an understanding of fashion's environmental and social impact.
The Fashion + Sustainability pathway embeds sustainable and ethical practices within a strong focus on research informing innovative design development. Industry-targeted workshops include Pattern Drafting and Garment Construction, Design and Concept Development, Fabric Manipulation, Tailoring, and Entrepreneurship. Studio Practice is complemented by courses in Fashion and Sustainability, Fashion History and Theory, Fashion Illustration, Illustrator for Fashion, and Natural Dyeing. Classes are small and provide a nurturing environment with a strong focus on individual students and fostering their unique vision.
Students design and develop conceptually-based collections that reflect a personal design aesthetic and produce a professional Lookbook for their graduation portfolio.
Fashion + Sustainability students who continue into a postgraduate BFA Honours year specialising in Fashion + Sustainability, work independently on a conceptually-based sustainable fashion project that reflects original thinking, rigorous research, design innovation, design, and sustainable fashion theory, and executed to a high professional standard.
Industry professionals provide invaluable feedback during individual student critique sessions and are regularly invited to lecture on industry topics. BFA graduates with a Fashion + Sustainability pathway gain employment nationally as well as internationally as design assistants, patternmakers, sustainability consultants, workroom assistants, buyers and merchandisers, stylists, costumiers, and design educators as well as establishing their own brands.
Why choose Fashion + Sustainability at Whitecliffe?
The Whitecliffe Fashion + Sustainability department has a strong focus on sustainability within the New Zealand and international fashion industry and students are encouraged to embrace innovative and sustainable fashion practices throughout their studies.
Sustainability is part of an expanding branch within the fashion industry that focuses on social responsibility and environmental impact, the use of sustainable and organic materials, the disuse of harmful chemicals and dyes, and a reduction of textile waste. Whitecliffe students are given the opportunity to employ sustainable practices to address contemporary concerns within the industry and enhance their own design practice and become innovators within their field.
Students and graduates win national and international awards and are supported and encouraged to enter competitions.
We foster original thinking and individual design aesthetics. The educators at Whitecliffe are all practising designers and artists who provide an inspirational and professional learning environment.
Students learn design research, concept development, fashion history and theory, illustration, and contemporary sustainable fashion practices to create innovative collections that reflect re-thinking and re-evaluating of fashion for a sustainable future.
High professional standards of industry methodology are taught including patternmaking and garment construction, tailoring, and fabric manipulation.
Whitecliffe offers modern and industrial equipment in a spacious studio with individual study spaces in Year Three and BFA Honours.
Whitecliffe provides access to WGSN, a leading global fashion trend forecasting website, and EcoTextile, the environmental magazine for the global textile supply chain.
Students intern at New Zealand Fashion Week, alongside designers and international buyers, and participate in internships within New Zealand and overseas.
Industry specialists and business studies classes prepare students for the fashion industry. Visting designer critique sessions enrich their personal practice.
Years Two, Three, and BFA Honours students showcase their collections in exhibitions, and at the prestigious annual Whitecliffe Fashion Show. BFA Honours students participate in a retail store Window Display Project, contextualising their decisions through visual merchandising methodology.
Bachelor of Fine Arts: Core Courses + Supplementary Electives
The following Core Courses and Supplementary Electives are taught across all four of the Bachelor of Fine Arts pathways, along with specialist courses that are specific to Fine Arts.
Bachelor of Fine Arts Year One
Year One for the Bachelor of Fine Arts students includes a combination of both general arts and design with specialist pathway courses. The programme covers practical and theoretical skills and knowledge where students develop core skills in design, drawing, materials and processes, together with critical and contextual studies.
The study includes supervised studio practice, lectures, tutorials, and self-directed learning. Visual Theory introduces the vocabulary of Art History and Contemporary Theory in support of practical courses and Studio Practice.
The Semester One programme is specifically intended to best prepare students for one of the BFA specialist pathways (Fine Arts, Photo Media, Graphic Design, and Fashion Design). Students are guided through structured projects in the first semester and examine the process of drawing, art-making, and design within the compulsory courses: 5101 Drawing, 5102 Design, and 5103 Materials + Processes, before starting their specialist pathway in the second semester.
Students also participate in three, intensive week-long workshops that enable them to collaborate in teams and/or work independently to produce collective creative outcomes.
Critical and Contextual Studies
A fully integrated programme of Critical and Contextual Studies supports all studio specialisms. 5111a & 5111b Visual Theory Part 1 & Part 2 initiates students into the language of critical discourse and critique. Students learn to analyse, critique, discuss, write, and conduct research related to the practice of art and design. The Visual Theory courses also assist students in positioning their art and design practice within a broader cultural and historical context.

Year One Supplementary Electives
Additional to the specialist courses, students have an opportunity to select from a range of elective courses. Elective courses enable the Year One student to test out other specialist areas, before firming up their decision to specialise in a pathway. Elective courses may include the following:

5202: Community Engagement
5203: Painting
5202: Screen Printing
5402: Graphic Print Processes
5404: Publication Design
5502: Reading the Photographic Image
5503: Video
5504: Digital Imaging

Critical and Contextual Studies in Years Two and Three
The integrated programme of Critical and Contextual Studies continues in Years Two and Three. In Year Two students undertake a one-semester course in Modern and Contemporary Art and Design Survey, that addresses contemporary theory and debates around the subject specialism of their choice. Year Three students extend this learning in the Contemporary Issues in Art and Design course as well as Entrepreneurship II that includes the opportunity for applying knowledge in a work placement. During these internships, students gain valuable insight into working conditions and fostering significant networks for the future.

In addition, students select from a range of theory elective courses offered within a suite of Year Two and Year Three courses. The courses include a variety of topics that strategically deepen students' contextual, theoretical, and practice-based inquiries. Students select from the following:
6120: Sustainability Now
6121: Contemporary Art: Asia and the Pacific Rim
6122: Socially Engaged Practice
6123: Scripting the Body: Curating Performance
6124: Identity and the Construction of the Postmodern (Self)
6125: Painting and the Expanded Field
6128: Making Art in a Globalised World
6129: Public Project
6130: Revolution and War
6131: Popular Culture: Warhol's Stepchildren
6132: The Object
6133: What is Cinema?
6134: Spectacle and Seduction
6135: Te Ao Māori
Fashion + Sustainability Year One
Year One students wishing to specialise in Fashion + Sustainability will be required to complete the 5300 Studio Practice: Fashion Design course throughout the year. This course is considered fundamental to fashion and sustainability practice and will include a balance of contemporary and traditional skills, sustainable practice, and knowledge. For example, the course content may include the following:
Sewing Methods
Pattern Drafting and Calico Toile Construction
Garment Construction and Dart Manipulation
Sustainable Design Thinking
Research, Design, and Construction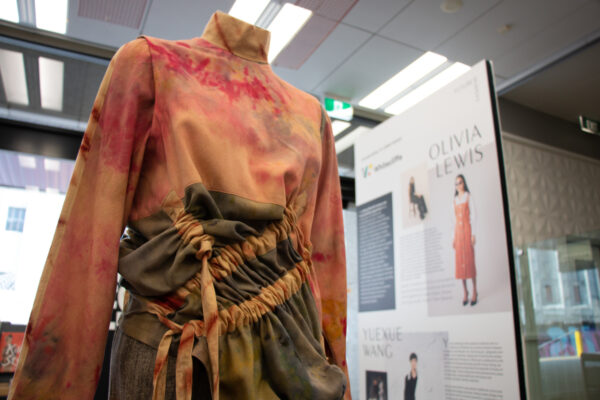 Fashion + Sustainability Year Two
Year Two students can choose a specialist area to work in, either womenswear or menswear, within an overall framework of both historical and contemporary investigation and collection development. Sustainable design thinking and practices are embedded in the Fashion + Sustainability pathway and students are encouraged to consider environmental and social concerns within the global fashion industry and their own fashion practice. Students work with Natural Dyes, Craft Techniques, Organic Fabrics, Deadstock Fabrics, Upcycled Materials, and Minimal or Zero-waste pattern cutting methods.
Students participate in a Tailoring module, Fabric Manipulation, Fashion Illustration, Illustrator for Fashion Design, and make a collection employing sustainable practices, to present at the Whitecliffe Fashion Show. Students also gain industry experience through their participation in New Zealand Fashion Week.
Studio research assignments, projects, and/or workshops are mainly lecture-initiated but largely student-directed and are based around a series of in-depth fashion design topics that support students to evaluate complex issues and discuss critical frameworks relevant to contemporary fashion and sustainability.
As students progress from Year One into Year Two, their ability to apply more advanced skills and knowledge and critically reflect on their research is developed through their studio practice.
Fashion + Sustainability Year Three
Year Three students concentrate on developing a conceptually-based, innovative and sustainable collection of garments that reflect their personal style and prepares them for the fashion industry. Local fashion designers visit the studio to give students critical feedback on their design process. Students expand their knowledge of Sustainable Practices, Pattern Cutting, and Garment Construction employing industry methodology and workroom practices. At the end of the year, students produce a graduate collection lookbook and present at the Whitecliffe Fashion Show.
Life After BFA Fashion + Sustainability
A career in the fashion industry can take you from the initial stages of concept development and design through to production and merchandising or buying.
Fashion + Sustainability graduates may choose to work in Designer Workrooms, Production, Visual Merchanding for Product Display, or in Fashion Styling for magazines and photoshoots, Costume Design for theatre and film, and teaching at secondary and tertiary levels are other excellent career opportunities.
Designers, Patternmakers, Visual Merchandisers, and Stylists work at the creative end of the market; and Sustainability Consultants, Merchandisers, and Buyers are involved in fashion forecasting and sourcing, and presenting international trends to the local market.
Fashion + Sustainability graduates usually begin as Workroom or Merchandise Assistants before moving into Patternmaking, Designing, or Senior Merchandising and Buying positions. They can also become involved in Fabric Research and Development. Participation in New Zealand Fashion Week, and Year Three and BFA Honours internships, enhance the studio learning by providing the opportunity to gain practical work experience in the fashion industry and increase graduates' changes of employment and career possibilities.
Careers can, for the dedicated, lead to the development of a designer's own label which is why the Whitecliffe degree includes compulsory business studies in Entrepreneurship. Many graduates begin working with a prominent designer and, after gaining experience, create their own design house.
The Fashion Design sector in New Zealand has grown significantly in the last ten years. This has created more opportunities than ever for graduates, such as online fashion businesses, public relations, and marketing, styling, creating fashion blog sites, and journalism.
Key Information for Students
Where could this programme take you?
A career in the fashion industry can take you from the initial stages of concept development and design through to production and merchandising or buying for high fashion chain stores. Fashion Design graduates may choose to work in designer workrooms, production, visual merchandising for product display or in fashion styling for magazines and photoshoots. Costume design for theatre and film and teaching at secondary and tertiary levels are other excellent career opportunities.
Jobs related to this programme
• Designer
• Design Assistant
• Workroom Assistant
• Patternmaker
• Sample Machinist
• Production
• Buyer
• Merchandiser
• Fashion Stylist
• Wardrobe Assistant
• Visual Merchandiser
• Fashion Retail
• Fashion Public Relations
• Fashion Marketing
• Fabric Range Designer
• Fashion Journalism
• Design Educator
Find out more about career opportunities
Industry Partners
Fashion + Sustainability
Talk to our team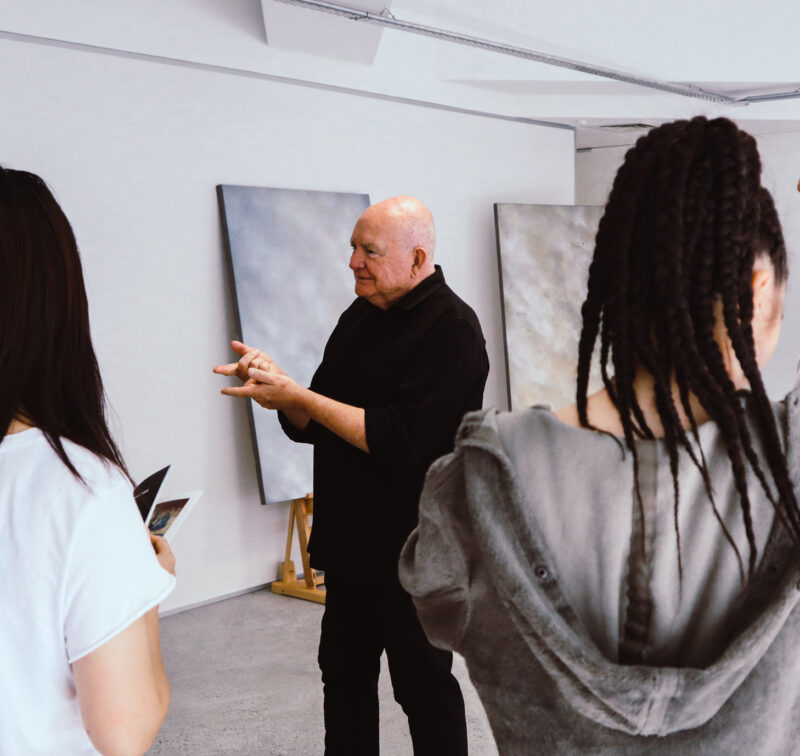 If you would like to ask us a question or request more information, please detail your enquiry using the form below. If you would like you can contact us directly on 0800 800 300, email us or use the contact us form.